30 Nov

Mitchell Garnett Named a Rising Star of Technology & Innovation

Byars|Wright Inc.'s Director of Operations, Mitchell Garnett, was recently named a Rising Star of Health, Tech, and Innovation by the Birmingham Business Journal. Honorees were selected based on their contributions to their organizations, tangible accomplishments, and their potential to become a leader in their field. The 2020 list of winners includes Garnett amongst a talented group of individuals who will shape their industries for years to come. Read the full article here.

"We are extremely proud of Mitchell and thrilled to see his hard work recognized in this way," said Haig Wright, II, President of Byars|Wright. "We believe that Mitchell is an outstanding representation of our agency and our industry as a whole. We're pleased to have him on our team."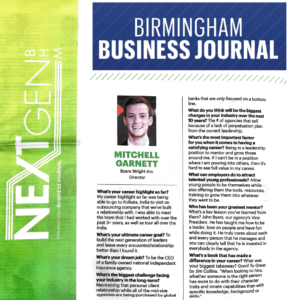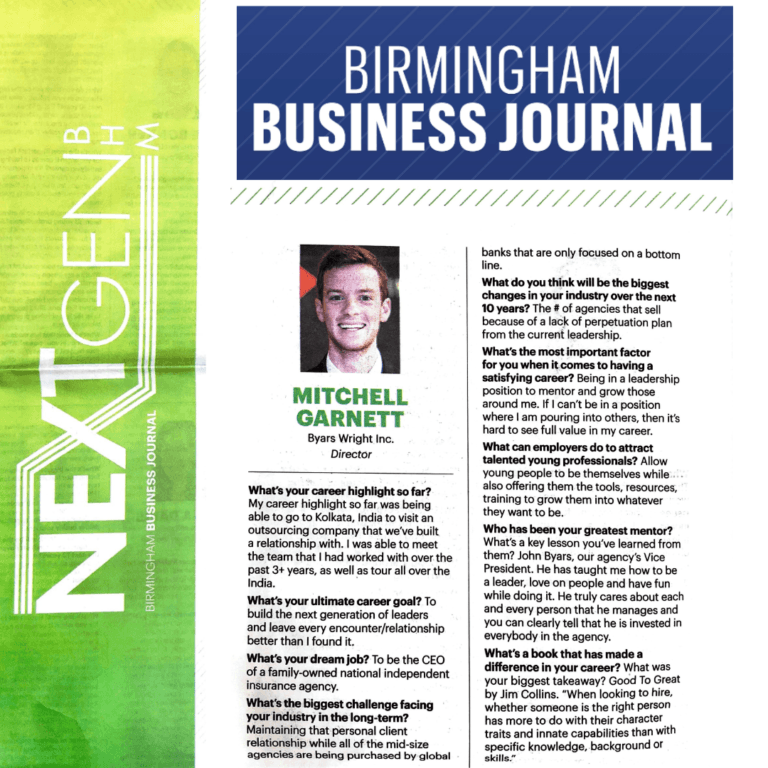 While this list of Rising Stars typically includes those in the entrepreneurial or technology-based sector, Garnett's inclusion highlights the strong technological advances in the insurance industry.
C-Spire Systems Engineer, Joshua Ray, works with Mitchell and said, "For the past few years, I have observed Mitchell spearhead and complete a variety of major projects to keep this growing company in a position to be successful. Mitchell focuses on the needs of his user base and the needs of all Byars Wright customers. Mitchell uses good judgment when choosing new technologies to enhance the services that Byars Wright offers. He is a proactive and security-focused individual, but also understands that IT should not be a burden for his user base."
Innovation and modernization play a pivotal role in the growth of any company, and for Byars|Wright, this has been an area of focus and investment with Garnett at the helm.
"With 60 employees and five branches, Byars|Wright relies heavily on our agency's technology, workflows, and management system to ensure that we operate as one seamless agency. All of which Mitchell not only manages but optimizes for maximum efficiency. We know that any project Mitchell pioneers will be a success," Wright continued.
Mitchell Garnett began his career at Byars|Wright in 2015 and has since become a trusted member of the Leadership Team. He is also a leader on the agency's Onboarding Team, Innovation Team, and is a Department Mentor.
As Director of Operations, Garnett oversees the management of all IT programs as well as Byars|Wright's Service Team. Wright says that Garnett has earned a tremendous amount of responsibility in the short time that he has worked with Byars|Wright because of his aptitude for technology and innovative schemes.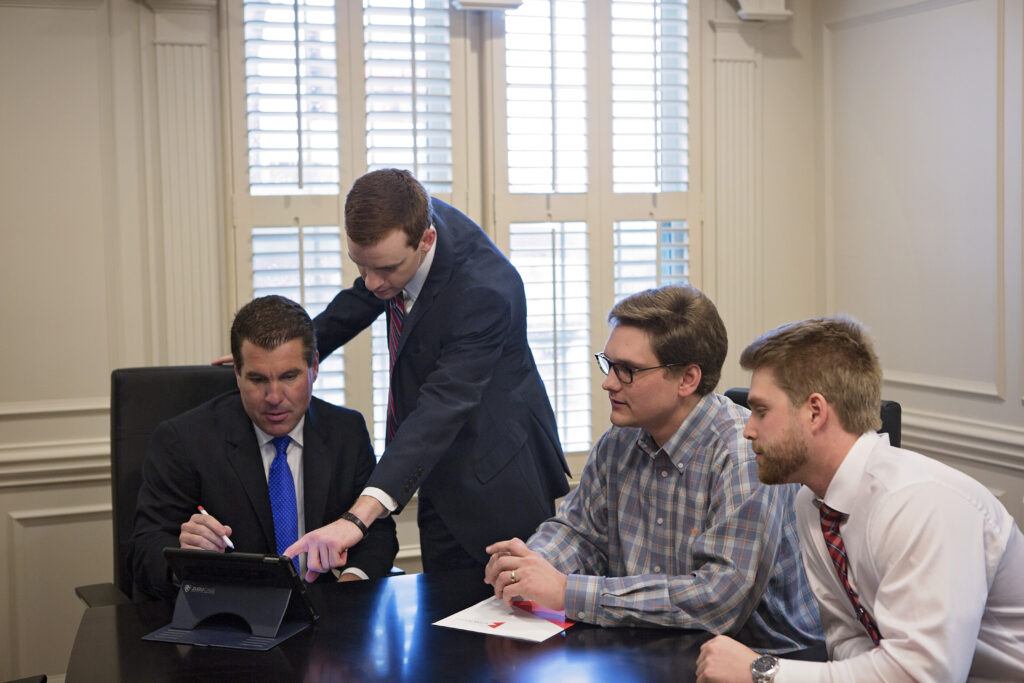 "While his job needs him to be a manager, he seems to do so by leading people," said Marble Box CEO, Ani Poddar. Marble Box, a service provider for "top-notch" insurance agencies, is one of the many things that Mitchell is responsible for in his extensive role as Director.
"He leads not by authority but rather by inspiring others around him. I get the feeling that he manages results vs. 'managing' people. He is also an interesting mix of professionalism and warmth. Mitchell is downright humble while not being a pushover. As a vendor, we have had to have some intense conversations. He has been more than reasonable while making sure he is letting facts, vs. emotions, guide his thinking."
Vice-President and Owner, John Byars, said, "He is forward-thinking and not only provides a compelling "why" behind every new idea and decision, but Mitchell comes prepared with a strong strategy for enactment. Because of his strong track record in the implementation and effective delivery of highly innovative ideas, we've come to expect that the new programs or applications that he brings to the table have thorough research behind them."
From updating their entire phone system and customizing Byars|Wright's customer portal and mobile app, to enabling Duo Security, reinforcing the agency's Cyber Security and executing the transition of their agency management system to a new cloud-based platform that is ranked among the best in the insurance industry nationwide, Garnett has proven to be a force for good and will continue to propel the growth of Byars|Wright. You can read more about his expertise in his blog on InsureTech or Growing with Technology in a Relationship-Driven Agency.
Outside of work, Mitchell is a member of Shades Mountain Baptist Church and engaged to be married in 2021. He was on the Byars|Wright Cook Team for the Exceptional Foundation's Chili Cook-Off, and he serves on the Junior Board for Birmingham non-profit, The WellHouse. You can read about his passion for and experience with this organization in our blog: Beyond Byars|Wright, Mitchell Garnett & The WellHouse.
Mitchell earned his B.S. in Finance with a concentration in Insurance, and a minor in Computer Technology and Applications from the University of Alabama. He is currently enrolled in Auburn University's MBA Program. Mitchell is licensed in Property, Casualty, and Life. He has also earned his Commercial Lines Coverage Specialist (CLCS) Designation.
Continue reading excerpts from Mitchell on our blog page: