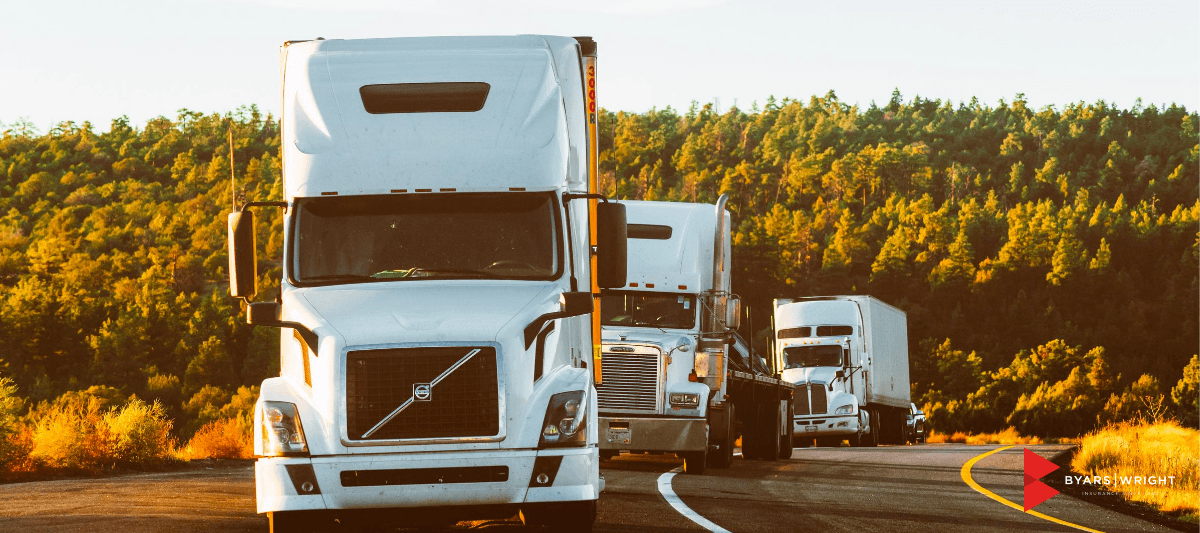 14 Aug

What Trucking Companies Need to Know About Their Insurance

By J.R. Appling

Transportation presents many risks and exposures that come with day-to-day operations. I often discuss with my clients, and others in the trucking/logging field, important, but overlooked questions that are vital to understanding the insurance and needs of your business. I specialize in Transportation Risk and seek to help by offering solutions to the exposures companies face within these industries.
Driver Shortage: How can I attract and retain quality drivers?
One of the best ways to keep your rates down is to have qualified and experienced drivers on your team. With the resources, online presence, and HR experience to back it up, Byars|Wright can help by being an advocate for finding those drivers you currently may not be able to reach. Some questions I present are listed below:
How are you locating and recruiting your drivers? Depending on your location, sometimes it's hard to find high-quality drivers. Are you using social media to attract drivers efficiently? Are you taking advantage of LinkedIn, job fairs, social media, and strategic advertisement? Are you willing to accommodate quality drivers' needs? Is your brand being built in an attractive way? As an industry expert, I am always looking at ways to add to my clients' brand.
Investing on the front end by recruiting millennials – Millennials have grown up with technology at their fingertips. They want freedom, comradery, fulfillment and they want to make a difference in what they are doing. Selling financial freedom, and not having a desk job can be very appealing. Is your company painting that picture and willing to invest in that generation? What does the future look like for a quality driver who stays with the company for the long haul (financial incentives, benefits, the health of the organization, and the growth of the company)?
How are you retaining your employees? Having a robust employee benefits plan is necessary in order to compete with other trucking companies when looking for drivers. Incentive plans, profit sharing, bonuses, etc. are other great ways to retain the wonderful employees that you have been able to recruit.
Why is it important for my trucking company to be well covered?
With a lot of trucking companies operating on small profit margins, it is important to not let that pressure affect decision making when it comes to purchasing adequate amounts of insurance.
With just about everything else you get what you pay for. Cheaper insurance is nice, but if it doesn't offer you the protection that you need, then it's not useful. Having inadequate insurance is a guessing game. It might work in the short run, but there are too many possible scenarios that will leave your business exposed. When will a claim happen? When will you need that extra insurance coverage? The answers to these questions are unpredictable, and that is why it's important that your business is properly covered in the event of any scenario.
What should I ask my insurance producer while looking for the best coverage?
The best question that every trucking business owner should be asking their producer is, how can I mitigate the risk I currently have and improve risk management for the future?
As an insurance producer, we are risk managers. I can sit down with your company, look at your business model and identify where all of your biggest risks and exposures lie. If you have this thought process when you approach your insurance needs, it improves the possibility of nullifying losses, which translates to premium decreases, and in the end, increases profitability.
What are some overlooked kinds of insurance that I should have?
Adequate Excess Layers: The main point is to protect your assets. The more trucks you have on the pavement, the more exposure you have to experience a substantial loss, especially in this space. You can have every safety program in-place with driver training methods, experienced drivers, new fleets with improved technology, familiarized routes…but, accidents can and will still happen – so you need adequate layers of protection.
I see many mid-size fleet trucking companies without even a small excess layer on their auto, and they have 15 units running strong. I urge owners to consider getting higher limits than a combined single limit of $1,000,000.
Cyber Liability: Mid-sized to smaller fleets are easy targets considering many are unaware of just how easily their information can be accessed by hackers. Cyber breaches happen all the time where personal info (MVR's, Social Security, customer lists, payment information, and personal information) is hacked.
No one wants that phone call with their name being listed at the top of a suit because personal info was made public by criminals. Or equally as unpleasant, having to pay that ransom from being held hostage.
Think about this, also: you could be liable for the costs of a cyber attack even if your company wasn't directly hacked. For example: if your company uses McLeod software, and McLeod is breached – not you – you are still at risk for steep costs associated with the ripple effects of customer information being compromised. Insurance can help cover those costs when you have the proper policies in place.
It's 2020-it's time for your business to have cyber liability coverage.
What factors influence rates for a trucking business?
This is a question that I get all of the time. Everyone is curious as to how much their insurance will cost their company. There are many factors that will influence your company's insurance rates, with some of these factors influencing your rates more than others.
A few of the influencing factors are: the truck driving experience of your employees, the ages of your operators, your company's history of losses, your venture status and number of years in operation, the radius that your company will travel, what commodity or cargo is being hauled, the upkeep of your fleet, and the age of your fleet.
Having a driver incentive program, distracted driving, safety programs, and cell phone policies in place can help justify lower rates. Having safety programs in place signal to insurance companies that you are actively making safety a top priority. A couple more factors are your DOT/CSA/CAB score and reports, as well the SIR/Deductibles that are decided on.
Above all, you need to have an agent that values relationships with underwriters and is able to go to bat on your behalf in the marketplace to paint your company's story properly.
In Conclusion
Overall, I would recommend finding an Agent who specializes in transportation risk, but ultimately find one that you can trust. Insurance companies can be volatile from year to year and every loss control and safety program can be put in place, but accidents happen when wheels hit the pavement. Having the right risk manager can be one of the most profitable investments a company can make.
Byars|Wright takes a unique approach to your risk management strategy, and we will adjust our plans depending on your business. Your relationship with your insurance agent is crucial to your success.
I would love the opportunity to continue helping your trucking company succeed. 
Relationships Matter! 
J.R. Appling
(205)-607-0529
1701 28th Ave South
Homewood, AL 35209