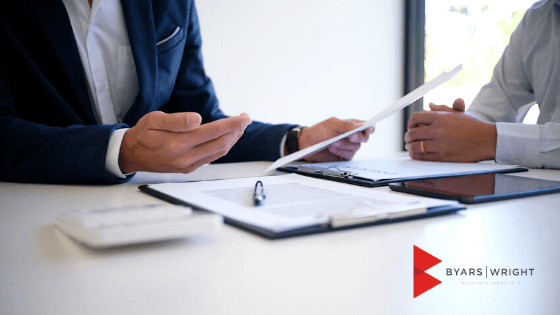 29 Jan

Insurance Claim Advocacy at Byars|Wright

By: Alan McCoin, Director of Claim Management  

While many insurance claims can be prevented through proper risk management and the right layers of liability coverage, they still happen. This is why our team at Byars|Wright set up a claims advocacy group geared toward serving clients in these times of need. Simply put, we protect relationships and we help people.

We understand that the claims process can be complex and overwhelming. At Byars|Wright, our goal is to create a positive experience and outcome for our clients out of an unfortunate occurrence. We know that these times can be hard enough without the puzzle of the process – so we're here to walk with you and to guide you through it.
Why you need a claims advocate
1. To be there when a claim is filed 
Our claims team is here for you in your time of need–no matter what, no matter when. We go above and beyond to provide service after the sale of a policy. We believe customer satisfaction is better than customer service. It is our job to not only satisfy the client, but to get them to and leave them in a better place than they were. Plus, the relationships we have built with insurance carriers enable us to reach the carrier contacts directly in our clients' times of need to determine how the policy responds.
2. To work for YOU
During the claims process, we work for YOU. We are on your side — not the insurance carrier's. When a claim occurs, the client should share their claim situation with an advocate who will provide direction, guidance, and a strategic plan immediately following the incident. Typically, the claims adjuster will not communicate with the client for several hours or even until the next day. Plus, claims adjusters often carry a load of pending assignments, which prevents them from dedicating the same amount of time to serve a client as an advocate will. 
3. To coordinate and communicate 
The claim process can be complex, involving multiple parties and moving parts. Claim advocates will dissect all phases of the claim and provide navigation until the situation is resolved. We will coordinate the necessary conference calls, status updates, litigation strategy updates, and navigation throughout the entire claim process. We want to ensure clients receive the appropriate communication throughout the process. 
4. To coach you through a crisis
Unfortunately, claims situations often involve crisis management. We want to prepare you for what may happen during the process and coach you through it. For instance, a claims advocate will advise clients on how to respond to questions from the media and defense counsel in order to mitigate the crisis. You need an advocate with experience in these situations.
5. To mitigate and expedite the claim 
The overarching goal of our claims advocacy team is to mitigate and expedite the claim, and ultimately, reach a successful resolution for the client. From start to finish, we will be there to answer questions and resolve it in a timely manner so that our clients can move on with their business. Throughout the entire process, we're advocating on your behalf.
Claims advocacy at Byars|Wright
At Byars|Wright, our hope is that you never get to know our claims team on a first name basis. Our proactive claims process, what we call our 12th Man, allows us to manage a claim situation by providing claim advocacy and utilizing the appropriate risk mitigation techniques rather than a reactive approach, which typically results in a less than satisfactory result. Our claim advocates utilize their expertise to proactively identify, resolve, and prevent potential claim handling issues. We provide an overall risk mitigation claim management process through the creation and implementation of internal processes and procedures – including benchmarking the services provided by third party administrators and insurance carrier adjusters with industry best practices.
However, if you are faced with a claim, whether it's a property claim, product liability claim, customer injury claim or another common business claim, rest assured that our claims advocacy team is here for you every step of the way. Read our tips for reporting a claim in the Byars|Wright Claim Center.
We're constantly developing our employees, including our claims advocates, to better serve our clients. Our relationships run deep. Therefore, when a client is experiencing a loss, as Judy Hopkins says, "we show up".
Learn more about claims advocacy from Byars|Wright in Birmingham, AL 
Byars|Wright is a locally owned and operated independent insurance agency with five offices in the greater Birmingham area – including Jasper, Gardendale, Homewood, Alabaster, and Cullman – that has developed into a major provider of commercial and personal insurance. Since 1946, the agency has expanded its scope of business and delivers a wide-range of insurance products with quality coverage at competitive prices. Byars|Wright has been designated a Best Practices Agency by the Independent Insurance Agents and Brokers of America and was also named "Best Companies to Work For in Alabama" by Business Alabama in 2016, 2017, 2018. 2019. We Build People, Protect Relationships. Byars|Wright is Where Relationships Matter.