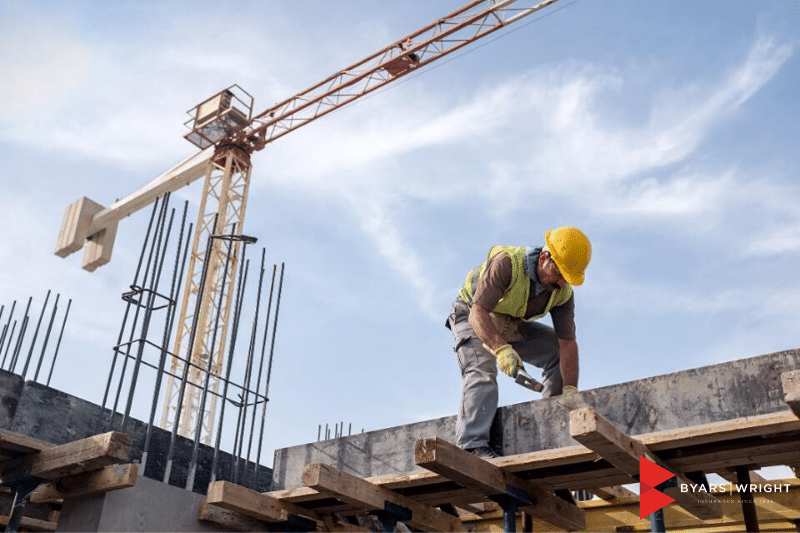 18 Nov

Surety & Bonding: Questions You Need to Consider
As a bond producer and construction-oriented agent, I'm often asked important questions on Surety & Bonding topics:
1. "How do I choose the right Surety company/agent? What should I be looking for?"
2. "How do I improve my bonding program?"
These are fair questions to ask. Though there are many agents out there and many ways to improve your program, the answers to those questions can be complicated because no two contractors are the same. They all have different circumstances.
Your agent needs to have a thorough understanding of your business. Even more so, they need to understand what you do, your circumstances, and your future goals. Construction is all I do – I don't just say that for marketing purposes. I grew up in Construction, I've worked in Construction, and now I insure the Construction industry. It's my niche. Whether you work below grade, roof top, or anything in between – whether you are a small, middle, or large market contractor – we can tailor a program that is specialized to your company's current standing while always keeping your future in mind.
Let's start with how to choose the right Surety company/agent.
Choosing the Right Surety Company Relationship
Just as surety bonding companies do extensive research on you as the contractor, it's equally important for you, the contractor, to return the favor. Choosing the right Surety company is key. Here are some things to consider:
1. Financially strong/Surety Capacity-What is the maximum capacity that your surety offers? They all have a cap. It doesn't make sense to partner with a surety that cannot help you achieve the vision you have for your organization and take you all the way. Your surety should help you get there, not hold you back.
2. What is my Sureties Rating? The highest possible surety bond company rating is A++. However, for certain projects such as public bid jobs, the bonding company must have a minimum grade of B+ or higher from A.M. Best (a company that analyzes businesses' financial strength). Choosing a seasoned surety agent will prevent this from happening without cause.
3. What personal data do they require? An experienced surety will have a well-oiled process for reviewing financials, owner information, business plans, and other data. Knowing in advance what scrutiny you'll face when obtaining bonding will help you better prepare. I understand revealing personal information is not always comfortable. However, the more detailed and accurate info you provide the surety, the more comfortable they will be with your account-which leads to a better rate.
4. Construction industry reputation and knowledge-Your chosen surety company and agent should have an extensive understanding of the construction industry. More specifically, your agent should really understand the area in which your company plays ball. Involvement in both construction and surety trade associations along with a good reputation for helping other construction companies like yours become more successful are key values/qualities to look for.
Finding the Right Surety Bonding Agent Relationship
There are 4 key questions any contractor should ask in order to find the right surety bonding agent.
1. Does my agent add value to my relationship with a bonding company? The agent is the intermediary between the contractor and surety. Surety companies want an agent with knowledge of the industry and a good reputation with local bankers, CPAs and lawyers who specialize in the construction business. That brings value to each side of the relationship.
2. Is my agent experienced in handling surety bonds? Out of 1,000 insurance agents, only about 10 percent are surety specialists. Agents who specialize in surety bonds know what a surety company is looking for in terms of presentation of financials; they can clearly and effectively communicate the contractor's business plan and work program for a proposed project.
3. How many similar accounts does my agent handle in my industry? How does your surety program stack up to your peers across the state/Southeast? Again-is your agent telling your unique story effectively? Are they painting the correct and most detailed picture to the surety?
4. How many surety companies does my agent represent? The Surety market is extremely soft right now. Having access to numerous sureties, while maintaining key relationships with the main players, allows an agent such as myself to find the best home for each and every contractor.
Many construction-niched sureties are "endorsed" by our local construction Associations. Most notably the Cincinnati Insurance Company has recently been chosen as the Associated Builders and Contractors of Alabama's preferred partner. Click here for more details regarding ABC/ Cincinnati. 
Once you have the right company/agent, how can you improve the bonding program? 
The 3 C's of surety bonding: Capital, Character, and Capacity
1. Capital-Capital is the net worth and working capital of the company. A good construction CPA, which is imperative, can get involved to help improve capital under certain circumstances by reviewing your financial statements prior to year-end for opportunities.
2. Character-Surety underwriters will judge a contractor's character in many ways. Primarily, they prefer to see a good and honest business that has the right foundation, provides quality workmanship, and consistently states job positions accurately in their financial statements (both during the year and at year-end).
3. Capacity-Sureties want to know that you have the capacity, expertise, personnel, and equipment to complete the stated project. Typically, the capacity portion of review is where the surety company can get itself into trouble; therefore the underwriters want to be confident that a construction company can manage and complete the project.
How can you use your knowledge of the 3 C's to improve?
Understanding and Benchmarking Key Ratios
In addition to the two major metrics—working capital and net worth—sureties often use additional ratios in evaluating a contractor's financial health and also benchmark contractors against competitors. Below are examples of key ratios and benchmarks used by sureties for healthy construction contractors.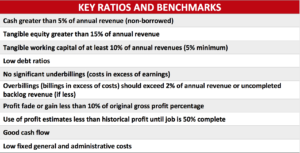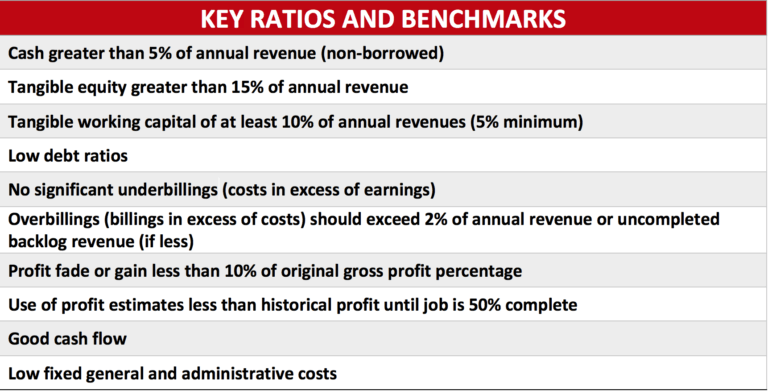 Reducing the Impact of Surety Working Capital Adjustments 
Bonding capacity is the maximum amount of surety credit a surety company will provide to a contractor. There is the single limit, which is the maximum amount of a single bond for any project; and there is the aggregate limit, which is the maximum total amount of bonds a contractor can obtain. There is no "one size fits all" formula. The calculation is contractor-specific, based on risks determined through review of a contractor's reputation, experience, and organization.
A contractor's bond limit is largely determined by working capital and net worth as reflected in the fiscal year-end financial statements. In general, surety credit is based on the lesser of 10 to 20 times adjusted working capital or 10 to 20 times net worth. Different surety companies have different appetites for risk, and sureties may adjust various factors in the working capital calculation.
Here is a general example of how a surety might determine working capital for surety credit: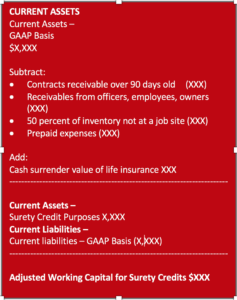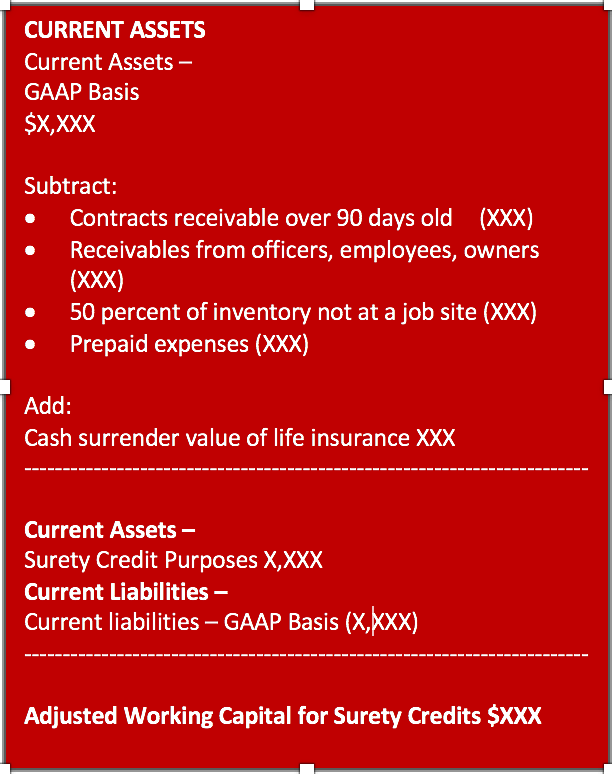 Contractors should analyze the inventory balance included in the financial statements and ask if the inventory represents uninstalled materials (contract asset vs. inventory), which would reduce the inventory adjustment. Also, consider what the cost is of reclaimed inventory, which would also offset the inventory adjustment. In addition, contractors should ask whether the inventory actually represents prepaid contract costs or supplies on hand. Presentation differences could reduce the surety's adjustment.
Eliminate Any "Surprises"
While it is important to understand what impresses sureties, it is just as important to understand what alarms them when attempting to maximize bonding capacity. Red flags go up for sureties when they see patterns of profit fades, underbillings, and unapproved change orders.
Underbillings could indicate poor billing practices, which calls into question the contractor's ability to grow and adequately manage cash flows. Underbillings could also indicate future contract losses. Contractors should make it a priority to timely bill on a monthly basis.
Having a significant amount of unapproved change orders indicates the contractor's inability to timely submit these change orders for approval and illustrates a weakness in a contractor's internal control procedures. The more time that passes before a contractor submits a change order for approval, the less likely the change order will get approved.
Contract Cost Budget (Phase Code) Analysis
Contractors should develop a cost budget analysis that compares actual to original bid budget, investigates significant variances, and compares material quantities bid to quantities purchased.
Conclusion
Contractors seeking to maximize their bonding capacity should take an honest and timely look at their overall program and decide on areas for improvement. The best place to start is your team – your "Professional Team" (Bonding Agent, Construction CPA, and Attorney) can help you plan for year-end, evaluate internal controls, identify areas of weakness, recommend areas to maximize credit, and work with their surety relationships to explain the balance sheet to add further credibility.
Consider who you work with and who you want to work with: do you have the right agent, who understands YOU and your business; are the people on your team experts in your industry; are they qualified to advise you; what does their involvement in your industry look like; do they have the right resources and capacity that you need; are they willing to partner and invest in your relationship to help you reach your goals?
Relationships Matter. Your relationship with your Bond Agent – and their relationships in the industry – is crucial to your success.
If I can help – I would love the opportunity.
Gabe Clement
(205)617-0610
1701 28th Ave South
Homewood, AL 35209
*Stats and some information pulled from the AGC.
Byars|Wright is a locally owned and operated independent insurance agency with five offices in the greater Birmingham area – including Jasper, Gardendale, Homewood, Alabaster, and Cullman – that has developed into a major provider of commercial and personal insurance. Since 1946, the agency has expanded its scope of business and delivers a wide-range of insurance products with quality coverage at competitive prices. Byars|Wright has been designated a Best Practices Agency by the Independent Insurance Agents and Brokers of America and was also named "Best Companies to Work For in Alabama" by Business Alabama in 2016, 2017, 2018. 2019. We Build People, Protect Relationships. Byars|Wright is Where Relationships Matter.