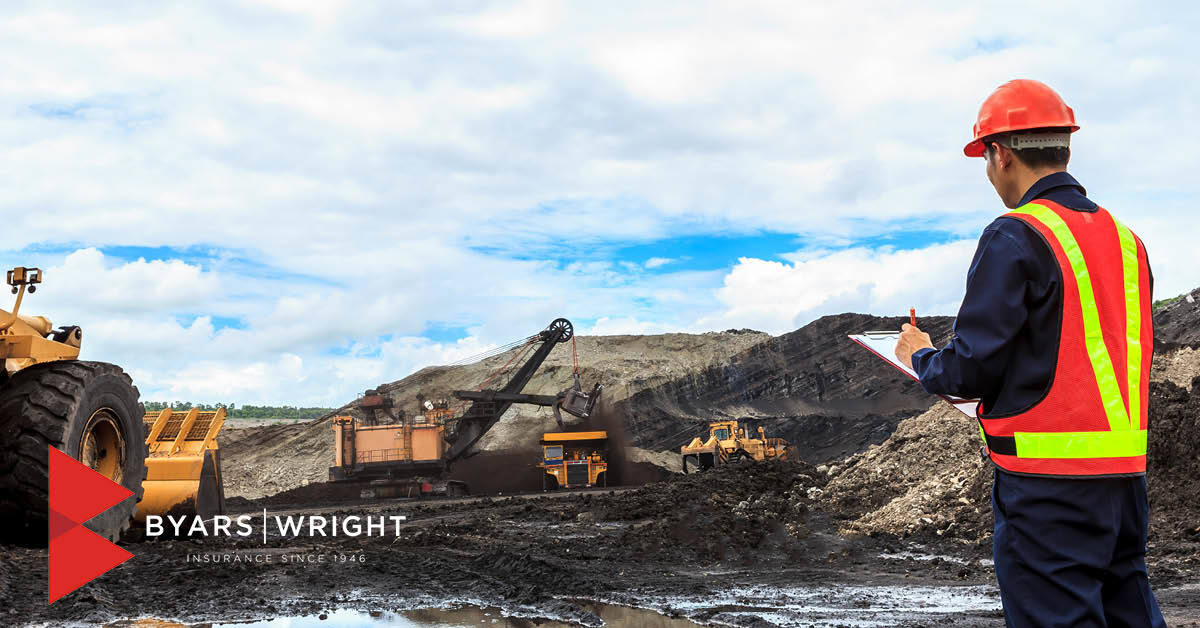 22 May

Coal mining insurance: Why it's never just another day on the job

May 22nd, 2019

By Haig Wright III, Producer

Ever since Byars|Wright was founded in Jasper, AL in 1946, we've insured contractors in both the surface and underground coal mining industry. With Walker County being "coal country," it's no surprise that protecting this industry is in our blood.
Coal Mining: Two Major Risks that Must Always Be Kept Top of Mind
Because of this long history, we've had the opportunity to see first-hand the biggest exposures these companies face each and every day. Even while abiding by regulations and meeting the compliance standards set by the U.S. Department of Labor's Mine Safety and Health Administration (MSHA), there are two things this high hazard industry must never forget.
#1 The whole operation is a huge risk.
When you're on the job, it can seem like just another day, leading you to lose sight of just how dangerous the job site can be. There are so many moving parts; you've got trucks, dozers, drills, shovels, and conveyors machines along with countless other types of equipment. It's so easy for something to happen, and when it does, it's usually, and unfortunately, not something small.
This is why it's absolutely pivotal to establish a safety conscious workforce and environment. Every morning should start with a safety meeting or "toolbox talk" before work even begins, and your safety manager must be actively involved. You've got to keep your hand on it; otherwise, something will happen.
The importance of everybody being on the same page and knowing what the job is that day cannot be stressed enough.
#2 Your subcontractors must protect the mine.
Your insurance agent needs to review all of your subcontractors' contracts, including coal haulers, blasting contractors, and any other third party that would come onsite. They need to ensure that the proper risk transfer is in place, there's a certificate of insurance on file, and that the subcontractor is listing the coal company as an additional insured, which is extremely important.
If something were to happen while your subcontractors were on, or even offsite such as hauling the coal, being listed as an additional insured would protect you from getting sued for an incident caused by or related to your subcontractor.
Insurance coverage that all coal miners need
Almost without exception, those in the coal mining industry just about always need:
Commercial Property Insurance

General Liability Insurance

Auto Liability Insurance

Equipment or Inland Marine Coverage

Workers' Compensation Coverage

Commercial Umbrella Insurance

Employee Practices Liability Insurance

Pollution Environmental Liability Insurance
Workers' compensation is unique for the coal mining industry because your employees are at risk of developing pneumoconiosis, or Black Lung Disease, which is a respiratory disease caused by breathing in coal dust over many years.
Your standard workers' comp policy is going to exclude any claims resulting from Black Lung Disease so you must first find a carrier that offers this coverage, and then make sure you get it added back into the policy.
Of course, your pollution coverage is particularly important as well, and this is what you see in the news. As a result of the mining, there's typically a lot of water runoff so it's important that your policy not only covers subsidence but also, since there's a lot of fuel on site, cover any type of pollution that could come from a fuel spill.
How do coal mining companies limit these risks?
When it comes to coal mines, there are few insurance carriers out there willing to provide this type of insurance. This means, your most important decision is ultimately making sure you're with an insurance agency that provides value and knowledge; and an agent that understands your business, the mining industry, well enough to put the proper risk management strategies in place, properly tell your story to the carriers, and advocate on your behalf.
Is your agency reviewing your subcontractors' contracts, helping with safety meetings, preparing safety manuals, and bringing in their own safety coordinator to help in any way possible?
If not, then it may be time to find a partner who's genuinely going to do whatever they can to help you protect your business, and we would love to be just that partner!
Learn more about insurance for the coal mining industry from Byars|Wright in Birmingham, AL
Byars|Wright is a locally owned and operated independent insurance agency with five offices in the greater Birmingham area – including Jasper, Gardendale, Homewood, Alabaster, and Cullman – that has developed into a major provider of commercial and personal insurance. Since 1946, the agency has expanded its scope of business and delivers a wide-range of insurance products with quality coverage at competitive prices. Byars|Wright has been designated a Best Practices Agency by the Independent Insurance Agents and Brokers of America and was also named "Best Companies to Work For in Alabama" by Business Alabama in 2016, 2017, 2018. 2019. We Build People, Protect Relationships. Byars|Wright is Where Relationships Matter.