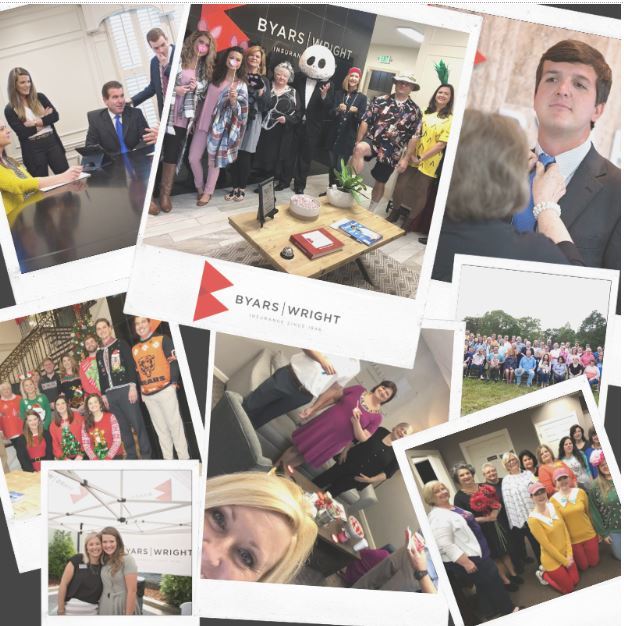 13 Sep

Workplace culture: What is it and why does it matter so much?

By Lacey Rae Visintainer, Agency Brand Manager

Workplace culture is difficult to define. Personally, I believe it's more easily felt. Though, if I had to put it into words, I'd say it's essentially the character or the heartbeat of an organization. It's created by the company's traditions, beliefs, values, and goals but also affected by the interactions, behaviors, and attitudes of the whole group. Even the underlying assumptions, day-to-day experiences, and the unwritten rules of working together can contribute to the company culture.

The company culture is a powerful force that shapes the work environment but also shapes the productivity and outcomes of an organization. 

Building a strong workplace culture is imperative for creating a place where employees can be both happy and successful. At Byars|Wright, we say that our purpose is to build people and protect relationships, and those are key outcomes of culture we've created. 

Everybody needs a reason to get out of bed, go to work, be productive, and feel satisfied at the end of the day. Earning a salary is a great reason to go to work, but it can't be the only reason.  A deeper "why" needs to be there. I believe for many people, culture is that "why" that brings them to work every day and motivates them to contribute to the success of the company.

"Culture eats strategy and vision for lunch." I heard this on a podcast by Craig Groeschel, the founder and Senior Pastor of Life.Church. While many of the, dare I say, 'older' workforce may be skeptical of this phrase, I believe it is true. It doesn't mean that strategy and vision aren't imperative for a business' success. Rather, it gives way to a new mindset in our workforce: culture drives success. How? Success is achieved by shared motivation, shared goals, and shared vision. Your culture will reflect these. If it doesn't involve any of that, it's going to be much more difficult to be successful. 

According to research by Deloitte, a survey shows that 94% of executives and 88% of employees believe a distinct culture is important to a business' success. Deloitte's survey also found that 76% of these employees believed that a "clearly defined business strategy" helped create a positive culture.

Culture – strategy – vision. They go hand in hand and ultimately lead to success. Even so, I wholeheartedly agree with Craig that culture eats strategy and vision for lunch.

Of course, workplace culture isn't something that happens overnight; it's been built upon as long as that organization has been in existence. 

Culture is different in every organization so you really have to define what you want your culture to be. For us, we take a lot of pride in the culture we've created around family and relationships, and that all started in 1946 on the strong shoulders of everyone that came before us. Relationships matter; not only the relationships with our clients but everyone within the organization.

Along with a family focus, we strive to create a culture of clarity and trust. Employees need a clear vision and understanding of the organization in order to truly buy into the company and its mission. Appropriate transparency by leadership not only gives clarity, but builds stability and trust within. When this happens, employees are able to take ownership and genuinely care about the overall success of the company.

Culture isn't limited to the internal workings of a company. Culture affects your clients.

At Byars|Wright, we want our clients to understand our company culture and how we operate. When they get to know our culture, it helps in their decision making. More importantly, it builds trust, and that's vital for any strong relationship. 

Therefore, if we're filling our team with the right people who are a good fit for our culture, then we're able to provide better service and build better relationships. 

Ultimately, I believe our workplace culture makes us who we are. It's the reason we're a company with happy employees, happy clients, and relationships that matter. At the end of the day, that's what it's all about.


Learn more about workplace culture from Byars|Wright in Birmingham, AL
Byars|Wright is a locally owned and operated independent insurance agency with five offices in the greater Birmingham area – including Jasper, Gardendale, Homewood, Alabaster, and Cullman – that has developed into a major provider of commercial and personal insurance. Since 1946, the agency has expanded its scope of business and delivers a wide-range of insurance products with quality coverage at competitive prices. Byars|Wright has been designated a Best Practices Agency by the Independent Insurance Agents and Brokers of America and was also named "Best Companies to Work For in Alabama" by Business Alabama in 2016, 2017, 2018. 2019. We Build People, Protect Relationships. Byars|Wright is Where Relationships Matter.