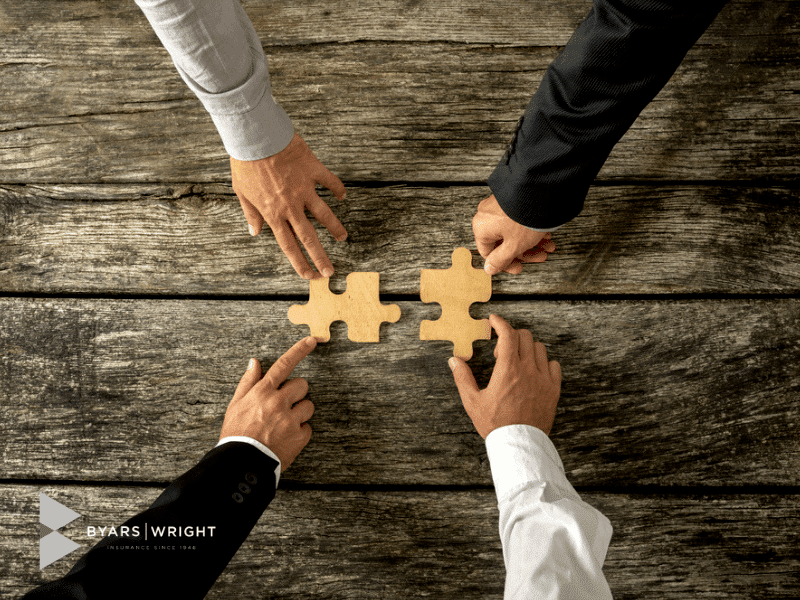 02 Jul

Reflecting on the Acquisition of JYC Insurance: Why Both Parties Agree It Was The Best Decision

By: W. Haig Wright II, President

At Byars|Wright, we live by our motto that "relationships matter"; it's our driving force, and our business hinges on it. From our clients to our insurance companies, we believe that having relationships built on trust is imperative. This is especially true when seeking out potential merger or acquisition partners. While both parties must take the time to get to know each other inside and out, you must also look for the synergy to be where you complement each other's strengths and weaknesses.

When we acquired Junkins-Yarbrough Corporation, or JYC Insurance, in July of 2017, we wanted this to be a win-win-win situation – a win for JYC Insurance, a win for their clients, and a win for Byars|Wright.

While we spent years discussing the acquisition before it finally became official, there was no denying the agencies' similarities. Much like Byars|Wright, JYC Insurance was run by second generation owners, Beau and Jackie Yarbrough, and was located in a small town. Along with that, our agencies were built on very similar core values and principles.

"It was just a really good fit. We felt like the agencies shared similar cultures, including the way we do business and how we treat our customers. On top of that, we represented a lot of the same companies and had the same computer system. Because of this, our customers didn't miss a beat," said Jackie Yarbrough. "Really, truth be known, it's the best thing Beau and I have ever done."

Looking back after a year, both parties whole-heartedly agree that this decision has been an absolute success for all involved.

As a company, Byars|Wright has boosted efficiency, accelerated growth, and increased market share, resulting in about a 20% revenue growth to our portfolio and the addition of more than 1,000 new customers. We also incorporated five experienced insurance professionals from their organization into our office. While customer service is a top priority for Byars|Wright, we believe that it all starts with properly staffing our agency, and this move has allowed us to better serve our customers with an even stronger team.

For JYC Insurance, the acquisition meant access to additional resources, more market availability, and greater market strength.  However it also meant more freedom and flexibility for its owners. Now a part of the Byars|Wright team, Beau and Jackie Yarbrough handle their book of business without the additional responsibility of managing employees, giving them the ability to do what they enjoy most – sales and traveling.

"Change has always been a monumental thing for me, and this just confirms the fact that change isn't always a bad thing," said Jackie Yarbrough. "After getting to know Haig and learning more about Byars|Wright, it was really amazing how it just fell together – divine intervention. We have absolutely no regrets, and we always say we should have done it sooner." Her husband, Beau echoes these sentiments, proclaiming, "It was a very wise decision. Haig has lived up to his word, and hopefully we've lived up to ours. I believe it's been beneficial for both of us."

But it wasn't just a win for them, it was a win for their team as well since they had the ability to bring everyone along. While one JYC employee went to another agency post-merger, she just recently re-joined the team, meaning all employees of JYC are now back together in the Byars|Wright Gardendale office.

"I could not ask for a better work environment than what we have at Byars Wright," said Donna Leemon, a former JYC Commercial Lines Account Manager who is also celebrating the one year anniversary at Byars|Wright. "Everyone is very professional, friendly, and always willing to help in anyway they can. The first 6 months were a transition period but now that a year has passed I truly feel that Byars Wright is my work home and family."

At Byars|Wright, we believe this acquisition is a testament to the positive outcomes that can result from a good batch.

Now that a year has passed, I truly believe this is proof that are many ways an acquisition can benefit the agency being acquired, as this decision has undoubtedly resulted in cohesive growth for both parties. Not only has it strengthened Byars|Wright as a whole, but its allowed us all to better serve our customers, which is ultimately our main goal.

We protect relationships. Every promise we make – and we mean every single one – is made on the belief that understanding is essential, trust is earned, and execution is everything. But above all else, Relationships Matter.

Email Haig Wright, II at hwright@byarswright.com.

As an independent insurance agency, we represent numerous companies, all with a history of excellent service. Through these companies, we will find the best pricing and coverage available for our customers.  We hope you'll reach out to us today online, or give us a call at (205) 694-0088.

Byars|Wright is a locally owned and operated independent insurance agency with five offices in the greater Birmingham area – including Jasper, Gardendale, Homewood, Alabaster, and Cullman – that has developed into a major provider of commercial and personal insurance. Since 1946, the agency has expanded its scope of business and delivers a wide-range of insurance products with quality coverage at competitive prices. Byars|Wright has been designated a Best Practices Agency by the Independent Insurance Agents and Brokers of America and was also named "Best Companies to Work For in Alabama" by Business Alabama in 2016, 2017, 2018. 2019. We Build People, Protect Relationships. Byars|Wright is Where Relationships Matter.