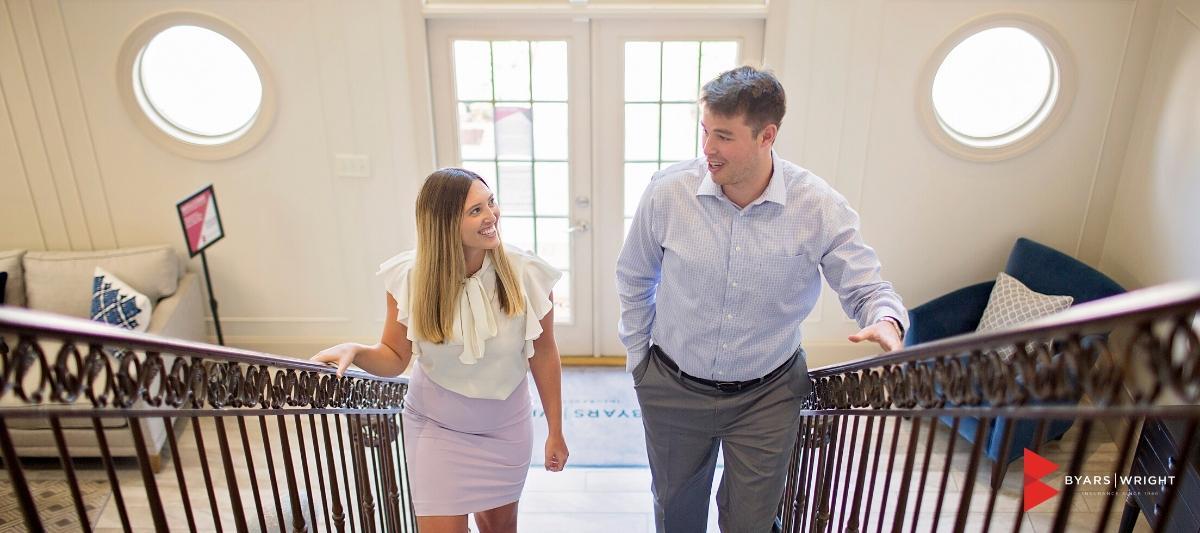 01 Jul

More Than an Internship: Everything I've Learned from Interning at Byars|Wright

By Lyric Welty, Agency Experience Assistant 

Job experience, gaining industry insight, and building a strong resume are a few of the reasons why a college student might consider completing an internship with an independent insurance agency. 

As an intern in ELEVATE, the Byars|Wright internship program, you will gain all of these things and more. When the internship concludes at the end of the summer, interns walk away with a vast amount of insurance knowledge and also a better understanding of people and relationships.

I've been with Byars|Wright for a year, starting first as an intern and am now an employee. During my time here, I have learned valuable life skills that I can always take with me. This has made my experience more than an internship. 
How I Started at Byars|Wright
I grew up in Illinois watching my dad sell insurance as an independent agent. After watching him in his career from an early age, I have always felt called to the insurance industry. I especially have a passion for independent agencies because of the growth opportunities they can offer. After graduating high school, I moved to Alabama to attend college at Samford University. As a rising junior, I decided I wanted to pursue my passion further. I applied for an internship in insurance to see if it was the right career for me. 
Last summer, I began my journey with Byars|Wright as an intern in ELEVATE. The expectation for my internship was that I would talk about insurance and maybe learn some lingo, do "typical" intern tasks like make coffee or print papers, and maybe learn from a couple employees in the agency. My expectations were wrong – there was nothing "typical" about my internship experience at Byars|Wright.  
I walked into the office on my first day feeling nervous – I had no idea what to expect. The second I stepped into the office however, I was put at ease. Right away, I was greeted, given a full shadowing schedule, and every employee that I talked to took the time to genuinely get to know me. After my first couple of days spent in the office, it became evident to me that Byars|Wright sees their interns as investments, and they treated me as such.
That summer, I spent my internship assisting the service team. They gave me the opportunity to shadow them, they consistently gave me insightful tasks to complete, and they taught me a lot about the industry. Even though I primarily focused on assisting the Account Managers, I also was able to experience every role in the agency. I assisted Producers, the Operations team, Agency Relations, and Branding.
Nearing the end of the summer, I knew I had found a home with Byars|Wright. I had learned a lot, but I knew I still had a lot left to learn. From Byars|Wright giving me the opportunity to shadow other roles throughout the summer, my eagerness to learn more about branding and to assist the operations team became clear. At the end of the summer, I was given the opportunity to stay on for another semester…and then I stayed for another…and let's just say, they're not getting rid of me anytime soon.
Byars|Wright recognized that my strengths would be better suited in a different role. My second semester here, they transitioned me into an Operations Intern position. Nearing my one year anniversary, my current position was created: Agency Experience Assistant. Byars|Wright listens to their employees' needs, and wants. They recognize where their talents and strengths are. Since the beginning of my time at Byars|Wright, I have not only felt like an employee, but also like I am an investment – that is something rare. 
5 Lessons I've Learned While Interning at Byars|Wright
During my time at Byars|Wright, I haven't just learned about the insurance industry. I have also learned these valuable life lessons:
1. Do what you say you're going to do
This is said by many different family members in the agency. Always – if you tell someone you're going to do something for them, then do it. At Byars|Wright this is showcased well. It is always expected that if you say you're going to do something, that you'll do it. 
As an intern, sometimes you're given a variety of tasks. Sometimes you're working on a large, time-consuming project and sometimes you're asked to mail something at UPS. Whatever it is, small or large, Byars|Wright has taught me to always keep promises when you say you're going to do something, because you're only as good as your word.
2. Always ask why
It's important to understand the "why". If you don't understand why you're being asked to complete something, or what the bigger picture is behind it, then simply ask. Asking questions and asking the "why" is one of the easiest ways to learn new things. 
Any internship should be beneficial for both the corporation, and for yourself. Every employee that I have interacted with from my very first day has always stopped to show me why. They don't simply give me orders to do something, they tell me why it's important. 
Every single employee at Byars|Wright is willing and able to be a valuable mentor – all you have to do is take the time to ask them "why".
3. Stay busy
As an intern, or in any position at Byars|Wright, every employee stays busy. If you finish a task you were working on, then ask for something else. Everyone needs help, and they'll appreciate it if you take the initiative to ask first.  
An internship is all what you make it, and you will get the most out of your experience if you stay busy. From constantly asking to try new things, or going door to door when I had down time to see if anyone needed me to help them with anything, I have learned a lot. The goal of any internship should be to learn. Staying busy is the best way to learn as much as possible.
4. Teamwork
Byars|Wright has shown me what teamwork looks like in a workplace. Everyone in the agency understands the mission and the bigger goals at hand. The first day I walked into the office, I was nervous. I didn't know anyone and I didn't know anything about insurance. I realized right away on my first day that I would be taken care of. 
Everyone is treated just like a family member. Since the day I started, everyone has made an effort to get to know me. Here I am a year after starting at Byars|Wright, and the morning greetings, question games at lunch, and quick chats about what's going on in my life never get old. 
Byars|Wright is both a team and a family. That kind of culture is rare and special to have. I realize how incredibly lucky I am to have experienced and witnessed that type of culture in an internship.
5. Don't take yourself too seriously
Byars|Wright is made up of incredibly hard-working individuals. They are also made up of incredibly fun individuals. At Byars|Wright, nobody takes themselves too seriously. Here, we laugh. We joke with each other. Everyone knows how to laugh at themselves. From working here, I have been taught that work can be fun. It is possible to work hard every single day, and also make the time to laugh every single day.
I'm convinced that no where else has the perfect formula that Byars|Wright has managed to create; hard-working employees, a great culture, and nurturing mentors. 
Getting an internship is important for job experience, gaining industry knowledge, and building your resume. You'll get all of these things from an internship at Byars|Wright, but you'll also walk away with life lessons to take with you-and you'll know the power and importance of relationships.
 Learn more about internship opportunities from Byars|Wright. 
Byars|Wright is a locally owned and operated independent insurance agency with five offices in the greater Birmingham area – including Jasper, Gardendale, Homewood, Alabaster, and Cullman – that has developed into a major provider of commercial and personal insurance. Since 1946, the agency has expanded its scope of business and delivers a wide-range of insurance products with quality coverage at competitive prices. Byars|Wright has been designated a Best Practices Agency by the Independent Insurance Agents and Brokers of America and was also named "Best Companies to Work For in Alabama" by Business Alabama in 2016, 2017, 2018. 2019. We Build People, Protect Relationships. Byars|Wright is Where Relationships Matter.