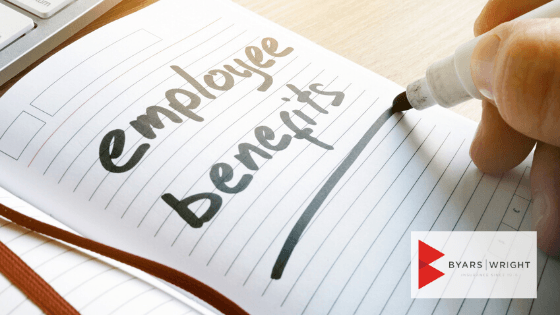 20 May

How to attract and retain great employees with robust benefits

By: Byars|Wright Benefits Partner: Tom Murfee, President and Founding Partner of Murfee Meadows

Employee benefits, insurance, and retirement planning are all parts of the financial planning process for both individuals and businesses. As a strategic partner of Byars|Wright, Murfee Meadows aims to complement the agency's current services to incorporate retirement plans, life insurance policies, and employee benefits.

For employers in any industry, it's imperative to offer competitive and robust employee benefits packages in order to attract and retain great employees. Below, I answer a few frequently asked questions when it comes to employee benefits.
What are the most popular employee benefits?
A robust employee benefits plan typically includes a retirement plan, group life insurance, group medical insurance, group dental insurance, and group vision insurance. While these employee benefits are not required, they are essential in order to be competitive with most companies. After all, if a potential employee is weighing their job offers, a more appealing benefits package may be a deciding factor.
Employee benefits also include ancillary benefits, such as vacation time, bereavement time, sick pay time, and more. For instance, Human Resources Today forecasted that the most-desired employee benefits for 2020 would include perks like pet insurance and leave, paid leave, flexible scheduling, and financial wellness programs.
Byars|Wright has seen success with similar perks, such as their unlimited PTO program called FamilyFirst, flexible scheduling, and access to our Murfee Meadows team and resources.
What is a flexible benefits plan?
Flexible benefits plans are becoming increasingly popular. A flexible benefits plan allows employees to deduct certain eligible expenses on a pre-tax basis. This plan helps employees save on their income taxes through payroll deduction and insurance premiums.
Similarly, a flexible spending account, or FSA, allows employees to pay for out-of-pocket expenses with a debit card. This benefit helps employees save on out-of-pocket medical expenses and daycare expenses. Plus, employees are now able to roll over up to $500 to the next plan year if they overestimate their out-of-pocket expenses.
Byars|Wright has a flexible benefits plan and offers their employees a FSA. Those who enroll receive a debit card, also known as their "flex card". This allows employees to set aside pre-tax money to be used for medical expenses.
For example, Byars|Wright employees decide how much money they would like to load on the card for the upcoming year and that amount is deducted, pre-tax, and loaded onto their card to be used for medical expenses and more. In addition to using this money to pay for co-pays, physical therapy, or prescription drugs, they have access to the FSA store online to buy other eligible health and wellness products. We've seen a great response from this program, and Byars|Wright deems it a huge success with their team!
What can we do about the rising cost of health insurance?
The rising cost of health insurance is a common pain point for employers. Fortunately, BlueCross BlueShield has many different plan designs in the state of Alabama. We recommend reviewing these designs to determine if supplemental coverages can be added to different plan designs at reduced costs.
Does my plan include Teledoc?
The coronavirus pandemic has caused the popularity of Teledoc and other telehealth services to increase. While employers and employees may not realize it, Teledoc is a part of most BCBS insurance plans. To support employees' health and social distancing efforts, many employers are adding Teledoc services without a co-pay.
How can I retain great employees with a better benefits plan?
Having robust and competitive employees benefits is key when it comes to attracting, hiring, and retaining great people. Plus, most employers want to support their employees' health, safety, and well-being as best they can.
The agents at Byars|Wright and Murfee Meadows are here to help you build an appealing benefits plan at an affordable price. We will sit down with you to determine your business goals and pain points, and what you're trying to accomplish with your employee benefits plan.
Together, we are committed to offering policies and employee benefits that will take care of your family, employees, and their futures.
Learn more about employee benefits from Byars|Wright in Birmingham, AL
Byars|Wright is a locally owned and operated independent insurance agency with five offices in the greater Birmingham area – including Jasper, Gardendale, Homewood, Alabaster, and Cullman – that has developed into a major provider of commercial and personal insurance. Since 1946, the agency has expanded its scope of business and delivers a wide-range of insurance products with quality coverage at competitive prices. Byars|Wright has been designated a Best Practices Agency by the Independent Insurance Agents and Brokers of America and was also named "Best Companies to Work For in Alabama" by Business Alabama in 2016, 2017, 2018. 2019. We Build People, Protect Relationships. Byars|Wright is Where Relationships Matter.