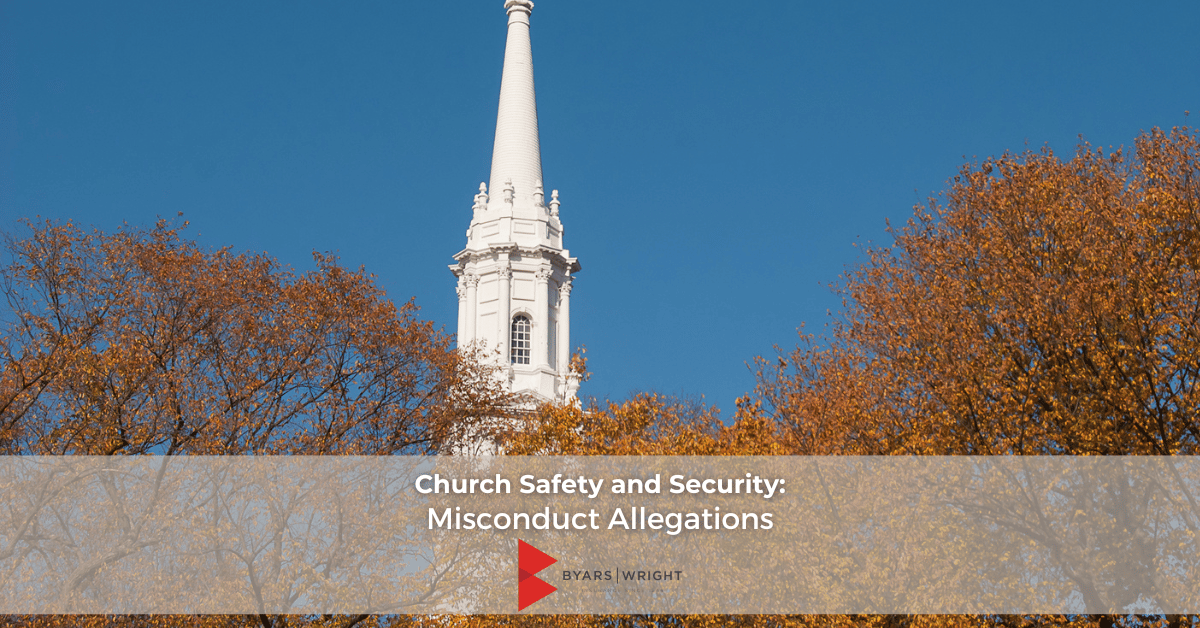 03 Oct

Church Safety and Security | Avoid Misconduct Allegations

Religious organizations are at risk for abuse allegations when working with vulnerable adults, seniors and children. So how can you protect both your organization and the people it serves?

It's important that your organization ensures there are adequate policies in place to protect the communities you serve. Thankfully, there are a number of practices you can implement to reduce your organization's exposure to abuse or misconduct claims—claims that can ruin your organization's reputation or lead to a costly lawsuit. To protect themselves, organizations should:
Develop adequate policies
Policies should detail how many staff members are required to be present when working with vulnerable adults, children and the elderly. These policies ensure no at-risk person is left alone with just one adult—there must be two adults present at a given time.
If your organization chooses to develop this type of policy, it's important to determine who is responsible for ensuring procedures are followed and revising procedures if needed.
Ensure the proper selection of staff and volunteers
When it comes to protecting vulnerable populations, it's important to select the proper staff and volunteers. One place to look for help is within your organization's membership. Hiring or selecting members of your organization helps reduce claims, as you've likely already built a rapport with these individuals.
If hiring within your membership is not an option, consider requiring that individuals applying for a position have experience working with children at previous organization affiliations. Also, be sure to conduct in-person interviews to gain insight into the applicant's background and why they have an interest in the position. Above all, background checks are essential and help determine if an individual has any previous criminal convictions. Your organization should follow state recommendations for what type of background checks to run.
Perform reference checks
Reference checks, in addition to background checks, are a great way to screen applicants. This is because an individual may not have a criminal background, and you—as the prospective employer—can gain useful information (e.g., details regarding behavioral issues) from their previous employers you can use to inform your hiring decisions.
Continue background checks
Religious organizations should continue to periodically run background checks on their employees and volunteers. This allows for continued monitoring and helps organizations identify any issues that may arise during employment. Your organization should have a well-communicated policy in place that requires regular background checks. This gives employees and volunteers advance notice that background checks will occur and shows there is a documented practice in place when it comes to hiring quality employees. It's recommended organizations run a background check every two to five years.
Provide excellent training
Train your employees, faculty and volunteers on abuse awareness and mandatory reporter training. This helps individuals identify any potential issues and report concerns. Without the proper training, your employees, faculty, and volunteers are putting themselves and the organization at risk. Make sure that they are properly informed and know how to address different situations according to church policies.
All in all, prevention is key. The services you provide are a valuable part of your church's community impact, so minimizing risks is imperative. Take a look at this blog on Ministerial Counseling Considerations for more information on this topic. We understand how important it is to protect your members, staff, and even your church's reputation!
We have a team of insurance professionals, including a pastor and long-time church insurance expert, that can advise your team. Contact us today to talk to one of our agents or to get more information!