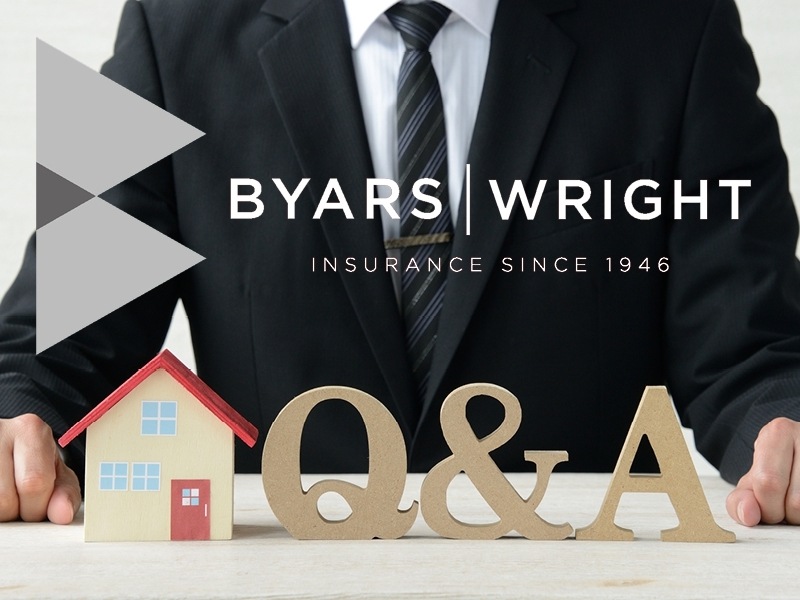 16 Nov

The Straightforward Answers to Your Most Common Homeowners Insurance Questions

November 16, 2018
Post by Byars|Wright

By: Andy Byars, Vice President

Whether before or after purchasing homeowners insurance, most everyone has a question or two about their policy. That's why I find it extremely important to ensure all of my clients are thoroughly educated on exactly what their policy covers, and why certain limits are where they are. This way, I can rest assured they feel comfortable with the limits and confident in the protection their policy provides.

If you have questions about your homeowners policy, now is the time to get those questions answered. From what's covered to how much coverage you need, here are the straightforward answers to all your homeowners insurance questions.

What does a homeowners insurance policy cover?

Your homeowners insurance has two goals: to protect your home and belongings during an unfortunate event, and to cover you if someone was to get injured on your property. That's why every homeowners policy is set up in two different sections: property and liability.

Your property coverage includes the dwelling itself and any other structures that aren't attached to the house, like a gazebo, pool house, or boat dock. This also includes coverage for additional living expenses if you had to rent a house or purchase a hotel room while your home was being rebuilt or repaired.

The second part of your homeowners policy is your personal liability, which is going to cover exposures on the property itself, like someone slipping and falling on your property, or your dog biting one of your guests.

What's the difference between market value and replacement value?

I often have clients ask why their insurance policy doesn't match their home's appraisal, or market value. This is because your insurance policy is based on the replacement value, not the market value. It may only be worth $300,000, but if a tornado completely tore it to the ground, it would cost much more than that to rebuild. The location of the home and land value play a large factor on the market value, but not on the replacement value.

How much coverage should I have under each section of my homeowners policy?

Most coverages under your homeowners policy are going to be a percentage of the amount of the insurance on the home itself, or your coverage A limit, with most policies being set up similar to the outline below.

Coverage B – Other Structures. More often than not, you're going to automatically get 10% of your Coverage A to protect the other structures on your property.

Example: 10% of $500,000 = $50,000

Coverage C – Personal Property. Coverage for your personal property is likely to be between 50-70%, with most companies automatically doing 70%.

Example: 70% of $500,000 = $350,000

Coverage D – Additional Living Expenses. This is usually going to be around 20%, which is easily going to be enough coverage in almost any scenario.

Example: 20% of $500,000 = $100,000

Can I drop the limit on my personal property insurance?

As mentioned above, most insurance companies automatically do 70% of your coverage A limit for your personal property, and from my experience, most people feel 70% is enough. On the other hand, I'll have clients tell me they don't have that much content in their home, and for this reason, some companies will let you drop that down to a minimum of 50%.  Really, the only true way to know if that coverage is where it should be is to do an inventory.

This is why I strongly recommend you take pictures or get video of the inside of your home so that, in the event there's a loss, you can go back and see what you had in the house.

What if I want more coverage than my homeowners policy sublimits?

For certain types of personal property, like jewelry or fine art, you have a limitation on coverage for theft or mysterious disappearance, which is basically where you just lose it. If you want more coverage than these sublimits, you can schedule these items, or list them out on what's called an inland marine policy. If the item listed was a diamond engagement ring, you'd provide details like the clarity, number of karats, and the appraised value, and you'd have a specific limit for that item. There's an additional charge, but it's usually very inexpensive.

Covering Your Home Insurance Needs

While the insurance company dictates the majority of the coverage limits under your homeowners policy, as an independent agent, it's my job to act as an intermediary if there's something out of line on the appraisal or something I feel is incorrect.

As a company, Byars|Wright works to not only educate, but to protect our clients from the most common types of claims. That's why you'll often find a range of advice on our social media pages, from how to prevent your pipes from freezing and busting to the importance of installing smoke detectors and fire alarms. When it comes to homeowners insurance, you can trust we have the knowledge and expertise to thoroughly answer all of your questions and ensure you have the coverage you need.

Byars|Wright is a locally owned and operated independent insurance agency with five offices in the greater Birmingham area – including Jasper, Gardendale, Homewood, Alabaster, and Cullman – that has developed into a major provider of commercial and personal insurance. Since 1946, the agency has expanded its scope of business and delivers a wide-range of insurance products with quality coverage at competitive prices. Byars|Wright has been designated a Best Practices Agency by the Independent Insurance Agents and Brokers of America and was also named "Best Companies to Work For in Alabama" by Business Alabama in 2016, 2017, 2018. 2019. We Build People, Protect Relationships. Byars|Wright is Where Relationships Matter.