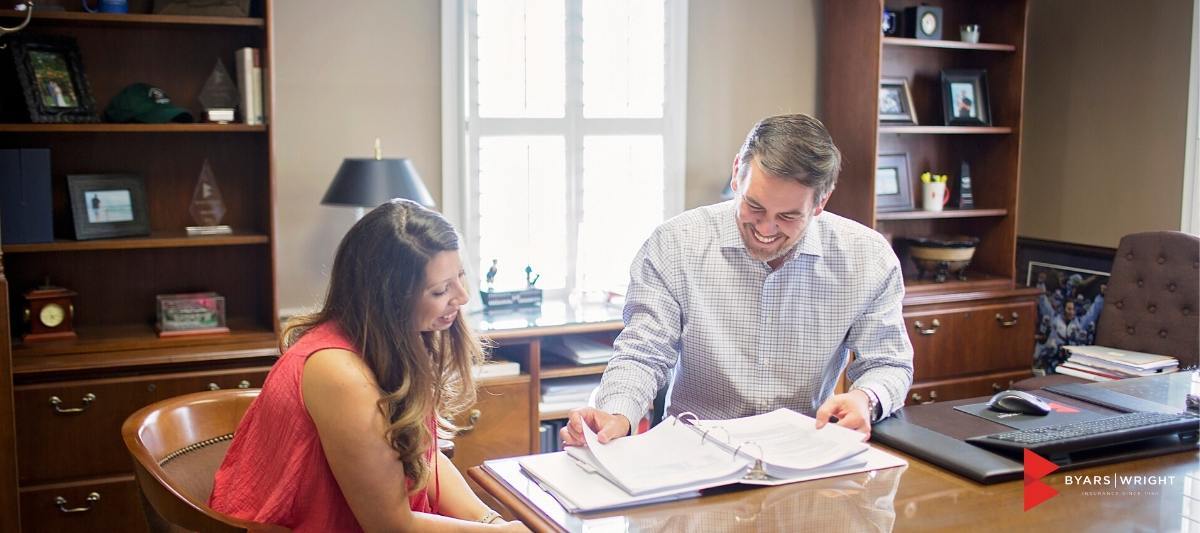 20 Jul

The Perfect Formula: A Byars|Wright Account Manager

By Laura Lee Johnson, Account Manager/Service Team Leader and Hayden Moss, Account Manager

At Byars|Wright, we know how to drive sales. We also know how to retain those clients by providing the top-notch service that our current clients have come to know and expect. Above all else, we know the importance of building and maintaining relationships.

The customer service process begins with our Producers, who plant the seeds of all our relationships and bring new customers onboard. Then, our Account Managers take over, and they work to maintain and strengthen the relationship with our clients; a job that they don't take lightly. 

A Byars|Wright Account Manager wears many different hats on a given day. Even so, at Byars|Wright, our Account Managers know how to service and assist better than anyone else in the industry. Whether they've been here for six months, or six years – our Account Managers are the best in the business.
The Role of a Byars|Wright Account Manager 
At Byars|Wright, the role of an Account Manager is never boring. There is no down time, and no two days are ever exactly the same. It takes someone with a special set of skills to be an Account Manager at Byars|Wright, and we know that our team of account managers possesses the perfect formula for success. 
We put our Producers in a Position to Sell
We believe that everyone is in a position to sell. Even if you're not a Producer, you're assisting in the sales process in some form or fashion. The role of an Account Manager is to be a resource by serving the customer and assisting the Producers.
We each work with a couple producers, and we make sure their needs are always met. Whether that is helping them with a proposal, making a phone call, sending an email – anything they need – we are willing to help because we want to make the sales process as easy as possible, and we want those new customers just as much as they do.
We Excel in Customer Service 
We're proud of the way our service team excels. We believe they know more about customer service than anyone else in this business, and we KNOW that they care the most.
"I love working with people and being able to have my customers come to me with their problems," says Laura Lee Johnson. "They come to me because they know I'll put them at ease, and I'll always handle their problems like they're my own."
As an Account Manager, our job is to service. We get to the office early, and we stay late-for our clients. We'll always pick up the phone, and answer the emails-for our clients. We fulfill all requests, regardless of what it is-for our clients. We eat, breathe, and live service; that's just the Byars|Wright Account Manager way. 
We are Technology Driven 
Byars|Wright is a technology driven agency. As a Commercial Lines Account Manager, we leverage the technology and resources that our agency uses to be able to do our jobs well. We are constantly in communication with our clients and the producers that we work with. We've made investments in new technology within the insurance industry. Whether that is an app for team communication, cloud storage, the newest headset for talking with our clients, a laptop so we can work from any location, or our top-notch agency management system – we utilize the best technology to be the best in the business.
Read our blog post to learn more about the technology we use as an independent insurance agency. 
We are always learning
Hayden Moss has been with Byars|Wright for six months. Laura Lee Johnson has been with Byars|Wright for six years. Both Account Managers are still learning new things every single day.  
"I love constantly learning and challenging myself to know more about the industries I am servicing," says Hayden. "I've loved learning about my clients and their needs, about many different industries, and our information systems. It is never boring. You can grow and learn more every day." 
Laura Lee agrees, "I learn something new every day. It might be something new about an industry I serve or there might be a new coverage type. Insurance evolves as times change. We must continue educating ourselves to be able to best serve our clients." 
Between Hayden and Laura Lee they service six different industries. There's a lot to learn about each industry and the specific needs of each type of client. Being open to learning is a necessity of all Byars|Wright account managers. 
Laura Lee says, "I want to learn as much as I can about each industry to better serve current and future clients. The more I know about their operations, the better service I can provide. We want to be sure our clients have the right coverage to meet their needs to eliminate surprises in the event of a claim." 
We are mentors
Byars|Wright knows that in any position, it is important to have strong mentors that challenge you, and show you how to succeed. 
"As a newer employee, I have learned that I can ask anyone anything. Everyone else is so helpful. They are always willing to answer any questions you may have, and they have an abundance of tips and tricks to help you succeed," says Hayden. 
Training our Account Managers from day one is very important to their success. Having a mentor is what elevates their training from basic to excellent.
Laura Lee is one of the three individuals a part of our Byars|Wright Account Manager leadership team. "We are the eyes and ears for upper management, and we are the voice of commercial lines account managers. We try to make everyone's work-life easier so that in turn, they can service our customers to the best of their ability."
We are relationship builders
At Byars|Wright, we are always there for our customers. We are present in our communities. We are growing and developing relationships everywhere, every day. 
"You have to be willing to work. You have to be willing to pick up the phone, write the email, make and build connections. We're a growing agency," said Hayden. 
Not only are we there for our customers, but we're also there for each other. 
"It is rare that you have so many branches and are growing and expanding as fast as Byars|Wright has, and we're all still so close. No matter how much we grow, we will always have that 'close to home feel', said Laura Lee. "We're a family. That means we pray before meals, and we check in on one another often. That's just the Byars|Wright way. Our culture is what sets us apart from everyone else."
At Byars|Wright, our account managers are the perfect formula of what a service team member should be. An Account Manager is busy putting producers in a position to sell, they excel in customer service, they are technology driven, they are learning, they are mentoring, and they are building relationships. Above all else, our Account Managers are always there for their customers-regardless of the need. 
H3: Visit our website to learn more about career opportunities available on our Service Team. 
Byars|Wright is a locally owned and operated independent insurance agency with five offices in the greater Birmingham area – including Jasper, Gardendale, Homewood, Alabaster, and Cullman – that has developed into a major provider of commercial and personal insurance. Since 1946, the agency has expanded its scope of business and delivers a wide-range of insurance products with quality coverage at competitive prices. Byars|Wright has been designated a Best Practices Agency by the Independent Insurance Agents and Brokers of America and was also named "Best Companies to Work For in Alabama" by Business Alabama in 2016, 2017, 2018. 2019. We Build People, Protect Relationships. Byars|Wright is Where Relationships Matter.