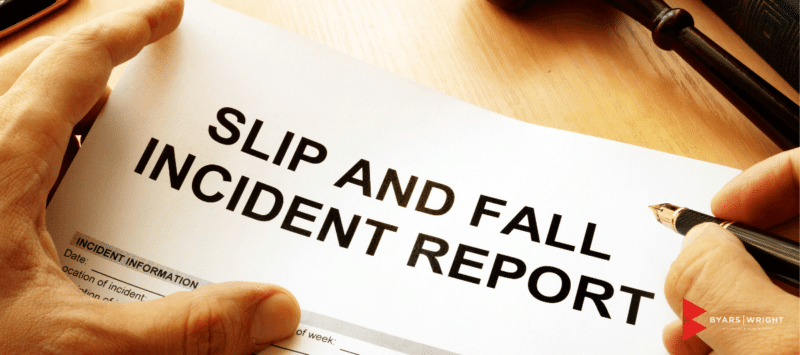 12 Oct

Slip, Trip, and Fall Solutions for Your Grocery Store

By Paul Burnett, Producer  

According to Business and Industry Connection Magazine, slips, trips, and falls are one of the most common and costly workplace incidents that occur. These incidents end up costing businesses more than $60 billion per year. The cost per claim will be on average, $20,000 to $50,000 to defend, not including the hidden costs such as time, travel, production, etc. 

The bottom line is: slips, trips, and falls are expensive. 

They are also usually preventable. 

We are all aware of the common ways to prevent these types of claims, including: 
Spill prevention and clean up
Having carpeted entryways
Providing rugs in necessary areas
Implementing wet floor signs
Routine monitoring
Giving special attention to common hazards such as the produce and meat departments.
All of these things sound easy, but it takes keeping your employees motivated and accountable for them to work. 
The best way to do this is by implementing electronic monitoring systems to make sure your employees are checking the sales floor and removing hazards as they should. These systems are effective at helping to prevent losses, as well as providing defense in the case of a claim. These systems can be somewhat expensive and may require additional software and equipment, but they will save you money in the long run. 
I have spent many years serving the grocery industry in loss prevention as a sales agent. During my time in this industry, I have seen many different ways stores have tried to document routine floor walks. I've seen it done through paper forms, timecards, and most recently, advanced analytical systems. In my experience from talking with numerous claims professionals the best way to document floor, walks is to provide consistent, documented inspections of the sales floor, entryway, and other high-hazard areas. Providing these documented inspections is the best way to prevent and defend claims. The key to documentation is being able to prove a trained employee was recently in the vicinity prior to the incident and no hazard was present. 
Technology in the grocery industry is always changing and improving. Recently, I was talking with a grocer about ideas to improve the old ways of floor monitoring. 
Here's the quickest and easiest solution we came up with to monitor the floor: use a cell phone with a decent camera, attached to WiFi, and set up to automatically download pictures to a cloud-based service like Dropbox. 
One of the best parts of this solution is its ease of execution – any employee could access the phone at least once per hour and then walk the entry area, sidewalk, front end, produce, meat, and each aisle while stopping briefly to take a picture of the area. If the employee encounters a hazard, they could also document the remedy. Considering an average size store with twelve aisles, this would be around 17-20 pictures each hour. The pictures would be time-stamped and once loaded to the cloud, anyone with access could review to make sure they were being completed on a regular basis. In case of an incident, the pictures could be forwarded from the cloud to a claim's professional for review.
This process is similar to many current systems out there, but you don't have the initial cost to install equipment and the yearly monitoring fees. The downside of course is technical support, the analytical tools, and the backing of a separate company. 
Floor monitoring will pay off big in the long run, no matter how you choose to do it. The results of implementing a floor monitoring plan should be a cleaner store, a safe shopping environment, fewer claims, and happy customers. 
At Byars|Wright, we have your safety and protection in mind. We constantly strive to make sure our customers have the best service, support, and tools to succeed. 
If I can help you and your store succeed, I would love the opportunity. 
Paul Burnett 
(205)-221-8675
pburnett@byarswright.com
999 Rocket Way 
PO Box 277 
Gardendale, AL 35071 
Byars|Wright is a locally owned and operated independent insurance agency with five offices in the greater Birmingham area – including Jasper, Gardendale, Homewood, Alabaster, and Cullman – that has developed into a major provider of commercial and personal insurance. Since 1946, the agency has expanded its scope of business and delivers a wide-range of insurance products with quality coverage at competitive prices. Byars|Wright has been designated a Best Practices Agency by the Independent Insurance Agents and Brokers of America and was also named "Best Companies to Work For in Alabama" by Business Alabama in 2016, 2017, 2018. 2019. We Build People, Protect Relationships. Byars|Wright is Where Relationships Matter.