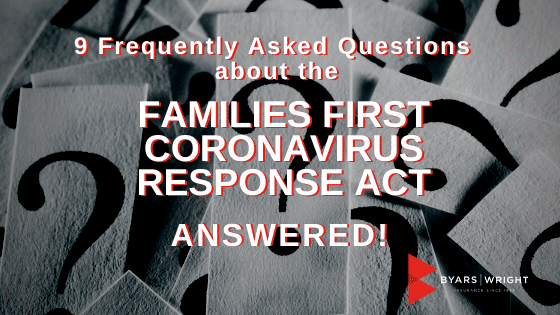 30 Mar

Questions & Answers about the FFCRA

With the new Families First Coronavirus Response Act, also known as FFCRA or HB 6201, taking effect on April 1 employers need to know how it could affect them. In this blog, we're sharing answers to Frequently Asked Questions provided by our trusted partner and adviser, Greg Miehn of  Foley & Mansfield. Take a look at the questions and answers below!
Question 1: Does FFCRA-expanded FMLA and Emergency Paid Sick Leave have an ending date?
Answer 1:  Yes. December 31, 2020 for both expanded FMLA and Paid Sick Leave.
Q 2: How many employees must an employer have to be subject to FFCRA-expanded FMLA and Emergency Paid Sick Leave?
A 2: Fewer than 500 employees.  Smaller employers can seek to be removed from compliance with FFCRA if they have fewer than 50 employees.  The process requires submission of a request to the Secretary of Labor.
Q 3: When are the qualifications for an employee to receive expanded FMLA?
A 3: An eligible employee is on that has been employed for at least 30 calendar days with the employer.
Q 4: Under what circumstances can an employee use expanded FMLA?
A 4: FFCRA uses the term "qualifying need."  The term 'qualifying need related to a public health emergency', with respect to leave, means the employee is unable to work (or telework) due to a need for leave to care for the son or daughter under 18 years of age of such employee if the school or place of care has been closed, or the child care provider of such son or daughter is unavailable, due to a public health emergency.
Q 5: If an employer is already subject to FMLA, is an employee eligible to use normal FMLA leave if they do not qualify for expanded FMLA leave?
A 5: Yes, provided the FMLA qualifies pursuant to the statute.
Q 6: What is the definition of "health care providers" in the expanded FMLA and Emergency Paid Sick Leave?
A 6: FFCRA, HB 6201, uses the FMLA's definition of the term "health care provider." (§ 5110(4)). The FMLA defines "health care provider" as: "(A) a doctor of medicine or osteopathy who is authorized to practice medicine or surgery (as appropriate) by the State in which the doctor practices; or (B) any other person determined by the Secretary to be capable of providing health care services." Accordingly, the term health care provider applies to employees, not to institutions.
Q 7: Are Health Care Providers exempted from expanded FMLA and Paid Sick Leave?
A 7: Under expanded FMLA, a health care provider can be excluded by its employer through regulation issues by the Secretary of Labor.  Under Emergency Paid Sick Leave, the employer on its own can decide to exclude an health care provider from participating in Emergency Paid Sick Leave.
Q 8: Is an employee employed by a company with 25 or less employees entitled to return of his/her job coming off leave.
A 8: No.  However, there are conditions.  Restoration is not required if the position does not exist at the time the employee returns to work caused be economic conditions or a public health emergency; and the employer makes reasonable efforts to restore the employee to a position equivalent to the position the employee held when the leave commenced, with equivalent employment benefits, pay, and other terms and conditions of employment.
Q 9: When can an employee use paid sick leave.
A 9: Immediately.
As HB 6201, or FFCRA, comes into effect on April 1-2, 2020, employers are required to have appropriate poster and notification to employees of expanded FMLA leave and Paid Sick leave.  Contact us if you need a copy of the poster, and we'll send it to you!