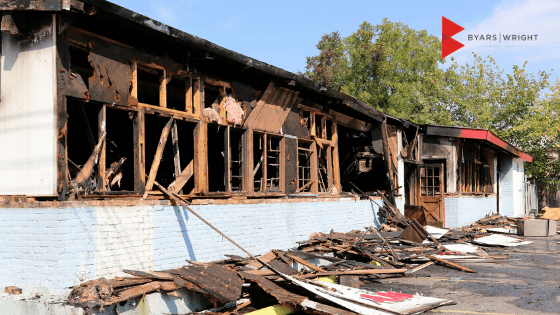 20 Feb

In case of emergency: Does your business have proper coverage?

By: Paul Burnett, Producer

The role of insurance is to prevent devastating scenarios, when possible, and mitigate the effects when disasters do happen. We have all heard horror stories of uncontrollable fires and inclement weather wreaking havoc on businesses. In fact, the Federal Emergency Management Agency (FEMA) reported that 40 percent of businesses do not reopen following a disaster, and another 25 percent fail within one year.

In the case of an emergency or natural disaster, is your business covered with adequate commercial insurance? 

The first step to making sure your business is covered properly is a policy review. Take a look at your policy: Are all your business locations covered? Do you understand the conditions of your policy – what it does or doesn't cover? Are you insured for the replacement cost of your building and its contents? 
How to avoid being underinsured for the worst-case scenario
The most common mistake business owners make when it comes to preparing for the worst-case scenario is being underinsured. Take these items into consideration when conducting your policy review: 
Insure your business property for the replacement cost
Business owners often underestimate how much it costs to return to operation after a disaster.  Rather than guesstimating the worth of your building and its contents, determine how much it would really cost to rebuild and replace your inventory, equipment, and other building contents to get back in business. 
Blanket your policies
Does your business have multiple locations? Consider blanketing your policies to cover multiple properties that are similar in nature but not at the same location. This practice will keep you from accidentally leaving a location uncovered.  
Avoid costly coinsurance penalties
While coinsurance is often overlooked, it can cause costly penalties. This small section of your policy can have a drastic impact on how you're compensated after a claim. Basically, the coinsurance section of your policy gives your insurance company the right to penalize you by reducing the amount of your claim payment if the amount of insurance you purchased is inadequate. For example, your business is insured for a million dollars, but it takes 1.3 million to rebuild. Because you are 30 percent underinsured, you will only receive 70 percent of that million dollars. Ouch!
Check your business income and business interruption coverage limits
Another mistake business owners often make is underestimating or overlooking the business income and/or interruption coverage they need when a disaster strikes. For instance, policies often throw a number out with a monthly limit. If you need 100k of business income to get yourself going and pay key employees, but have a monthly limit of 30k, you are at risk of being underinsured. You want your business income and interruption policies to be written on an actual loss sustained basis. 
Consider secondary coverages
Depending on the nature of your business, there may be secondary coverages that can be included in your policy to mitigate devastating scenarios. For example, if a grocery store endures a long-term power outage after a storm, food spoilage, perishable and utility service interruption coverage would be beneficial. 
The bottom line is that it is essential to be prepared with the right commercial coverage for the worst-case scenario. At Byars|Wright, we protect relationships. We are here to be sure you and your business are covered through proper risk management and the right layers of commercial coverage if a devastating scenario occurs. Contact us for a policy review.
Learn more about commercial insurance coverage from Byars|Wright in Birmingham, AL
Byars|Wright, Inc.. is a locally owned and operated independent insurance agency with four offices in the greater Birmingham area that has developed into a major provider of commercial and personal insurance. Since 1946, the agency has made acquisitions to expand its scope of business and delivers a wide range of insurance products with quality coverage at competitive prices. Byars|Wright has been designated a Best Practices Agency by the Independent Insurance Agents and Brokers of America and was also named "Best Companies to Work For in Alabama" by Business Alabama in 2016, 2017, and 2018. Byars|Wright, Where Relationships Matter. www.byarswright.com.