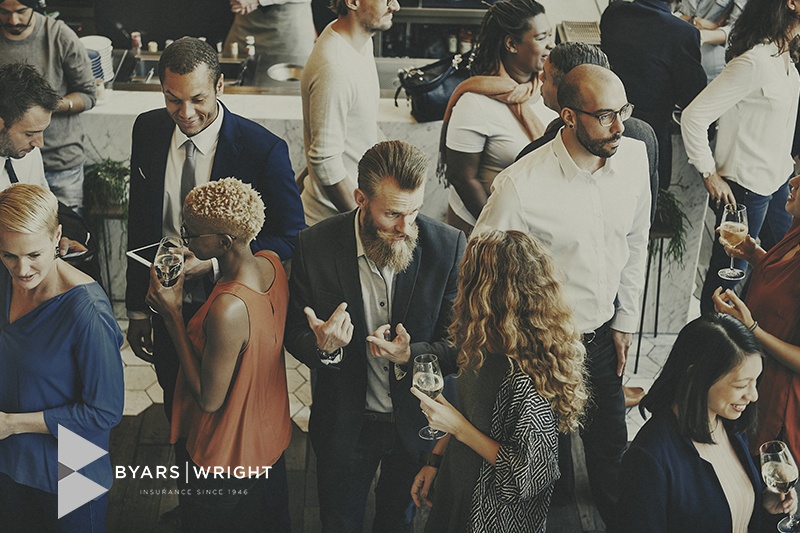 01 Feb

Do you need extra liability coverage to serve alcohol at a company event? Here's what you need to know about liquor liability and minimizing your risks.

February 1, 2019
Post by Byars|Wright

By Evan Chambers, Account Executive

Believe it or not, Alabama has the strictest alcohol laws in the country. If you're currently deciding whether or not to serve alcohol to employees or during a company-hosted event, there are a few things you should take into consideration.

What Alabama Businesses Need to Know About Liquor Liability


Below, we'll help you determine whether or not your business should invest in additional coverage when serving or providing alcohol. Even when you have the right coverage in place for your particular event or gathering, there are still other steps you can take to even further avoid any chance of legal trouble.
When Do Companies Need Extra Liability Coverage When Providing or Serving Alcohol?
If it's just a one-time occasion at the office…
Maybe you're having an office party on a Friday before everybody leaves for an extended break, and you've decided to provide wine and beer. In this case, you don't have to get liquor liability insurance because you're not selling it to the public, nor are you doing it on a regular basis.
In the instance that an employee leaves and causes a car accident, that would be picked up in your general liability under a clause called "host liquor liability."
If you're hosting a public event at your location…
A lot of companies will host public events such as community fundraisers or cook-offs and may invite customers or the general public to attend. If you plan on providing alcohol at the event, you may want to get an event policy that would include liquor liability. This way, if any type of alcohol-related incident results from that particular event, the company is covered.
These one-time policies can cover you for a weekend or even just the day of the event.
If you're hosting a public event at an establishment…
Other events, such as golf tournaments, might be held at the local country club for instance. In this case, the country club is going to have their own insurance. However, you definitely want to check and ensure the establishment has its own liquor liability built into their insurance policy since they'll be the ones serving the alcohol.
You can also ask them to name you as an additional insured on their policy, thus, extending their liquor liability coverage to your business. Then, if the bartenders were to over-serve an attendee, your company would be provided defense through the golf club's policy.
While there are contractual items that can be put into place, you could go a step further to play it safe and get a standalone, one-day event policy for even more coverage.
What Does Host Liquor Liability under Your General Liability Cover?
If an employee has too much to drink at the office Christmas Party, for an example, most general liability policies are going to cover your business if that employee leaves, gets in a wreck and causes bodily injury or property damage to someone else.
How Companies Can Their Minimize Legal Risks When Serving Alcohol
For businesses that are considering providing alcohol at company functions – if you want to avoid any chance of legal trouble, don't do it! However, if it's one of those things you feel your employees would enjoy and you'd like to do, there are a few steps you could take to minimize your risks:
Be very aware of everyone and how much they're drinking. It's also important to keep in mind what you're serving – is it beer or wine? Is it liquor?…because liquor is a different story.
Have your employees sign a waiver to hold the company harmless of any damage done from their intake of alcohol.
Set a limit and give out two to three drink tokens per person. That way, you know they aren't going to have more than a few drinks.
Go a step further and put an employee through TIPS Training. Most bartenders and servers at restaurants must get this certification that teaches them how to pick up on the signs of intoxication. Then at your gathering, have every employee go by him/her before leaving the office.
Whichever route you decide to take when serving alcohol to employees or at a company-hosted event, it's important to remember just how strict Alabama alcohol laws are and how important your employees' safety truly is.
Whatever you decide, just make sure you cover your business and your employees in every way possible so that you can avoid any potential legal trouble.
Learn more about Liquor Liability Insurance from Byars|Wright in Birmingham, AL
Byars|Wright is a locally owned and operated independent insurance agency with five offices in the greater Birmingham area – including Jasper, Gardendale, Homewood, Alabaster, and Cullman – that has developed into a major provider of commercial and personal insurance. Since 1946, the agency has expanded its scope of business and delivers a wide-range of insurance products with quality coverage at competitive prices. Byars|Wright has been designated a Best Practices Agency by the Independent Insurance Agents and Brokers of America and was also named "Best Companies to Work For in Alabama" by Business Alabama in 2016, 2017, 2018. 2019. We Build People, Protect Relationships. Byars|Wright is Where Relationships Matter.