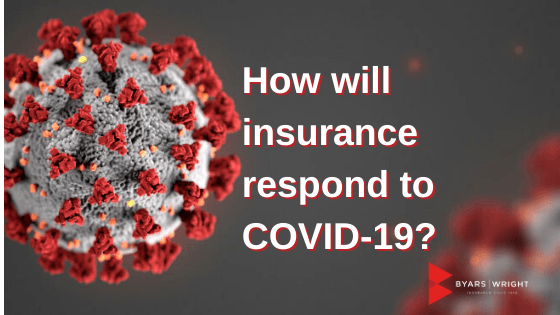 18 Mar

COVID-19 & Coverage
Businesses want to know: In the wake of COVID-19, how will insurance coverages respond?
Byars|Wright has been consulting with our insurance companies and clients on this matter since COVID-19 appeared across the globe. Its effects rippled through our state even before the virus physically reached our patrons and businesses have felt the impact.
"We are in constant communication with our customers and insurance companies as this situation evolves hour-by-hour," Haig Wright, President of Byars|Wright said. "The most important thing now is to review their existing coverages and determine what precautions businesses need to take in order to control their losses. We are here to consult our customers, or any organization with questions, and help them protect their business and relationships during this challenging time."
Unfortunately, COVID-19 has already led to business interruptions, supply chain issues and significant liability concerns—all of which can open policyholders up for losses. As such, it's important for companies to understand how COVID-19 can impact their insurance policies.
Business Income
As many operations from construction, to grocery stores, restaurants, churches and others closer to COVID-19 fears, the growing question is whether or not business interruption insurance will respond to policyholders to make up for lost revenue remains.
Paul Burnett, Byars|Wright Producer and grocery industry expert, has been working around the clock with his grocers concerning the impact that COVID-19 could have on their business.
"Stores have critical decisions to make, such as how to handle inventory and personnel, and it takes planning to do that."
Burnett feels that keeping his clients informed is the best practice so they can make wise decisions for their business.
"We are facing a truly unprecedented event with the spread of this virus. The most common question is concerning loss of business income in case a store closes due to an outbreak. Business income coverage is designed to pay after damages to your property or in the case of civil authority, damage to the entire area, causes you to shut down. The key to this coverage is damage resulting from a covered cause of loss.
We can't say exactly how an insurance carrier would respond to every possible event but we can say in reading the policy language, it appears this coverage would be a stretch. This is not specific to any certain insurance carrier as most of them use the same language for business income. We hope and pray this will not lead to anything like that, but we want to be prepared just in case."
Open questions about business income coverage are turning to the definition of physical damage and whether the virus, or mere presence of the coronavirus, meets that threshold.
As Burnett mentions, typically, business interruption insurance is triggered by a direct physical loss or damage. Under this interpretation, contagious diseases like COVID-19 would not count as a covered loss.
However, some argue that COVID-19 can contaminate physical objects like HVAC systems or assembly lines, which in turn would force businesses to cease operations. In these scenarios, business interruption insurance could provide some protection. Still, insurers may push back, making coverage unavailable.
Liability Concerns
Additionally, businesses are required to provide safe working environments for their employees and the presence of COVID-19 brings with it the question of liability. Consequently, many businesses are suspending operations as a means of preventing the transmission of COVID-19 to other individuals, and not as a result of physical damage.
"We're encouraging our clients to take every precaution to sustain the health and wellness of their employees, family, and relationships," Wright said.
COVID-19 raises a number of liability concerns, particularly if guests, customers or employees allege they became sick due to a business's negligence. When it comes to liability concerns, it's important to take the following insurance considerations into account:
General liability insurance—General liability insurance, sometimes referred to as commercial liability insurance, protects your business from financial loss should you be liable for property damage or personal and advertising injury caused by your services, business operations or employees. It can protect you from costs associated with bodily injuries, damage to third-party property, personal injuries, medical expenses, litigation and more. When it comes to COVID-19, general liability policies could provide coverage and allow you to defend claims. It should be noted that, in order for a claim to be valid, the claimant would have to allege the virus was contracted due to the insured's negligence and detail how, when and where they got sick—all of which could be difficult to determine.

Directors and officers (D&O) insurance—Shareholders and other stakeholders could sue a business should they fail to respond appropriately to COVID-19 concerns. Specifically, stakeholders may contend that management failed to develop adequate contingency plans or detail how COVID-19 could impact the company's financial performance. It should be noted that most D&O policies exclude coverage for bodily injuries but may offer some protection depending on the specific allegations. As such, it's important for businesses to review the scope of their D&O policies to confirm they are covered in the event of an incident.
Workers' Compensation Insurance
In instances where an employee believes they contracted COVID-19 at work, several workers' compensation considerations come into play.
Coverage may be triggered if the illness arose due to or in the course of the worker's employment. In general, these scenarios are examined on a case-by-case basis, but could include instances when:
A health care worker contracts COVID-19 at the hospital at which they work.

An airline employee contracts COVID-19 from a passenger.

A hospitality worker contracts COVID-19, which is later linked to a large event at which they worked.
"In the event any employee alleges they are ill, and it is work-related, we recommend to prepare a First Report of Injury Form and submit to your Workers' Compensation carrier for a compensability analysis," said Alan McCoin, Byars|Wright Director of Claim Management.
Claims will be reviewed by the insurance companies on a case-by-case basis.
McCoin continues, "Our Claim Advocacy and Management team at Byars|Wright is available to work through any additional operational examples. We will provide consultation in the event our customers experience a loss."
Ultimately, coverage is determined by the insurance company, but Byars|Wright can help file the claim and work closely with those companies if a claim is pursued.
"As always, we strongly advocate on our clients' behalf," Wright emphasized. "We will assist our clients in reporting any claims related to COVID-19 and will leverage our relationships with insurance companies in fighting for the most favorable outcome."
While COVID-19 introduces a level of uncertainty when it comes to available insurance protection, there are several precautions organizations can take to prepare for a claim. To control potential losses, policyholders should:
Review and modify existing contingency plans, estimating the potential impact of a long-term closure.

Identify equipment, services, and third parties critical for continued operation.

Have a process in place for responding to a loss, which could include:

-Detailing how the loss occurred and the impact the loss had on your operations

-Tracking all losses and expenses associated with the claim

-Highlighting how the claim could impact third parties, like suppliers and consumers
All in all, we know the Coronavirus will likely impact our community and our businesses on both a direct and indirect basis.
"We would like to take this opportunity to thank all of our health care providers, emergency responders and utility workers for their hard work and service during this time," Wright said.
Simply pointing to the Coronavirus as the proximate source of losses will start the discussion, but a thorough review of the facts will be needed to evaluate coverage and Byars|Wright is here to help.
For questions or more information, contact Lacey Rae Visintainer at 205-690-1383 or Laceyrae@byarswright.com.
Byars|Wright is a locally owned and operated independent insurance agency with five offices in the greater Birmingham area – including Jasper, Gardendale, Homewood, Alabaster, and Cullman – that has developed into a major provider of commercial and personal insurance. Since 1946, the agency has expanded its scope of business and delivers a wide-range of insurance products with quality coverage at competitive prices. Byars|Wright has been designated a Best Practices Agency by the Independent Insurance Agents and Brokers of America and was also named "Best Companies to Work For in Alabama" by Business Alabama in 2016, 2017, 2018. 2019. We Build People, Protect Relationships. Byars|Wright is Where Relationships Matter.