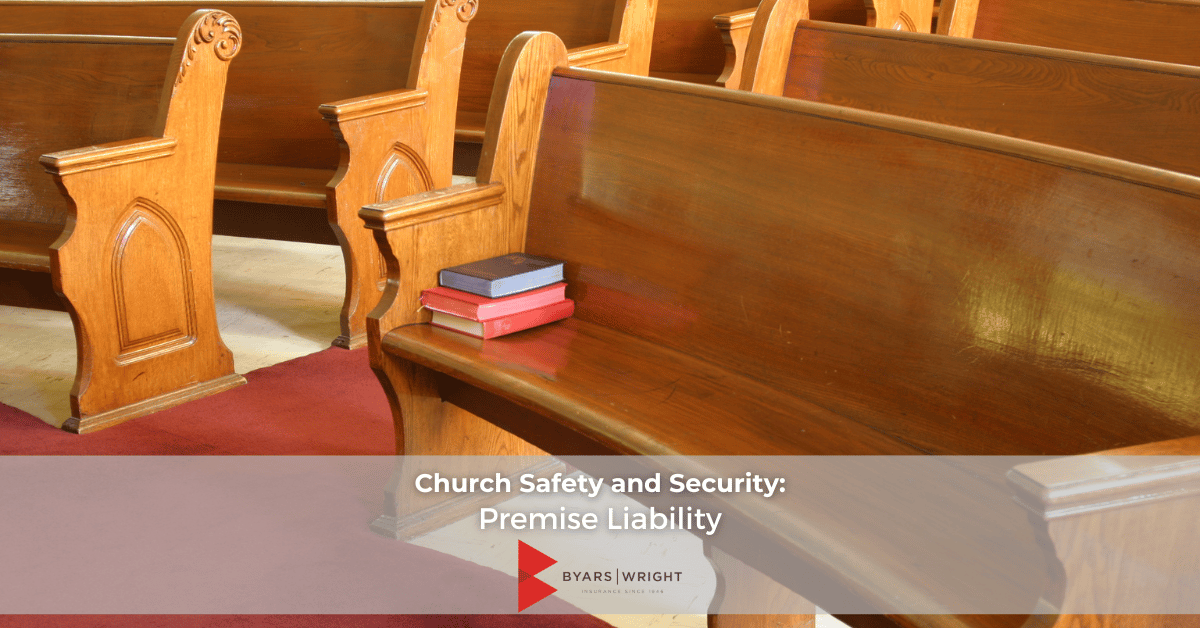 04 Oct

Church Safety and Security | Premise Liability

As a religious organization, inviting members or visitors to your property presents a risk. From Sunday services to school, camps, weddings, and more, there are a lot of different and wonderful reasons you open your doors to the community. Even so, when people walk the grounds or enter your church building, there's always the potential for an incident on your organization's property.  As a result, risk management is critical for religious organizations. The following information and safeguards can help you mitigate some of the exposures associated with your operations and protect your premise liability.
How can a church or religious organization prevent injuries?
Organizations need to make sure their premises are free of issues that can cause slips, trips, and falls. This involves fixing uneven walkways, steps and potholes in parking lots as well as removing snow and ice from areas people walk through during the winter. It's important for organizations to inspect their premise and fix any issues that they find. Furthermore, while waiting for the issue to resolve, they should warn their visitors of the issue to prevent injury.
An organization can be liable for an injury if it was the result of an issue on the premise that was foreseeable in nature. For example, if snow was in the forecast for the morning of service and the sidewalks were not shoveled or salted and someone fell, the injured party could bring a claim against your organization. A religious organization could be liable if the fall was foreseeable, meaning that the organization should know or should've known that someone could slip or fall on a sidewalk under the snow. If the injured person is an employee, then the organization could have a workers' compensation claim on their hands.
Any equipment your visitors use while at your organization must pass inspections and be in working order to prevent injuries. If there is an issue with the equipment, remove it from use and do not allow anyone to use it until the equipment is ready for use after repairs.
For organizations with outdoor play areas, monitoring is important. Make sure all outdoor equipment is in working order. There should be enough staff on hand to monitor the use of the play equipment and ensure it's proper use.
What is Premise Liability?
If and when accidents do happen, the injured party may need to visit the doctor or hospital. A church's premises liability insurance could pay those medical costs. Premises liability refers to a property owner's responsibility for damages that arise out of injuries that occur on their property. Premise liabilities for religious organizations can stem from a variety of scenarios. Some common premise liability exposures include slips, trips, and falls, equipment injuries, or security issues.
Slip, trip, and fall injuries can occur in many different ways at a religious organization. For example, your organization's property conditions can cause a slip, trip or fall, leading to a personal injury for a member of your congregation. These property conditions can include unmaintained parking lots, uneven sidewalks, snow- or ice-covered walkways, or even wet floors caused by spilt water.
How can  churches enhance security?
Additionally, religious organizations should make sure their premise is secure. Installing good lighting in the parking lot and around the building is a good way to achieve a more secure premise. If a security system is needed, it's important that the organization determine what type of security option best fits their needs. Organizations can install a security alarm or surveillance system, or hire security guards to assist them.
Religious organizations face numerous risks on a daily basis. If not properly addressed, these risks can detract from the core mission of a religious organization. But, through proper management and documentation, these risks can be greatly reduced.
For more information on how to mitigate risk in your religious organization, contact and connect with Byars|Wright Insurance today.